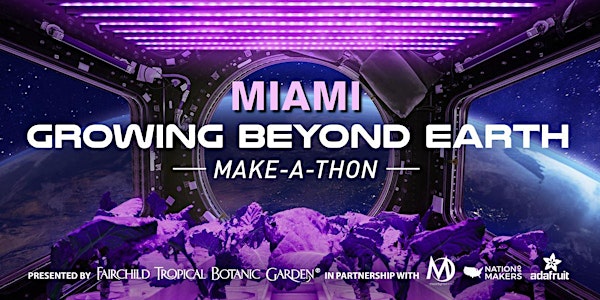 Miami Growing Beyond Earth Make-A-Thon
Join us for a weekend of making - where teams will collaborate to design and prototype the future of space farming for NASA!
When and where
Location
Fairchild Tropical Botanic Garden 10901 Old Cutler Road Coral Gables, FL 33156
About this event
The Growing Beyond Earth Maker Challenge is calling on makers nationwide to submit their ideas for a new plant growing chamber design for the International Space Station. This Make-A-Thon will provide resources, materials, and mentorship for teams in Miami to create their ideas and prepare their submissions for the challenge.
The challenge is open to:
High School Teams
Collegiate Teams
Professional Teams
Although individuals can apply, we recommend teams of 3 or more. When building your teams, try finding people with various skills to tackle the various aspects of the challenge: 3D Design, Graphic Design, Electronics, Etc.
More information and resources can be found on: https://www.fairchildgarden.org/Education/Growing-Beyond-Earth-Maker-Contest
Make-A-Thon Agenda
Friday
5-6pm | Team Registration
6-6:45pm | Introduction + Presentation
7-8pm | Networking
Saturday
10am | Breakfast Snacks
10am - 6pm | Make-A-Thon Build Hours
12pm | Lunch
6pm-8pm| Presentations + Awards
The Challenge
Design a structure to grow plants on the International Space Station. Currently, their system has plants on the bottom and led lights on top, but in a zero gravity environment you can maximize the amount of plants growing in the 50CM cubic volume by desiging a system that utilizes more of that space. More plants = bigger harvest! More food in space enables longer trips to explore longer ranges - to Mars and beyond! Your team will need to create the structural system to hold the plants and account for the lighting, watering, and air circulation systems. Not to worry - there will be mentors and experts available to help you with any questions you may have throughout the make-a-thon!