Description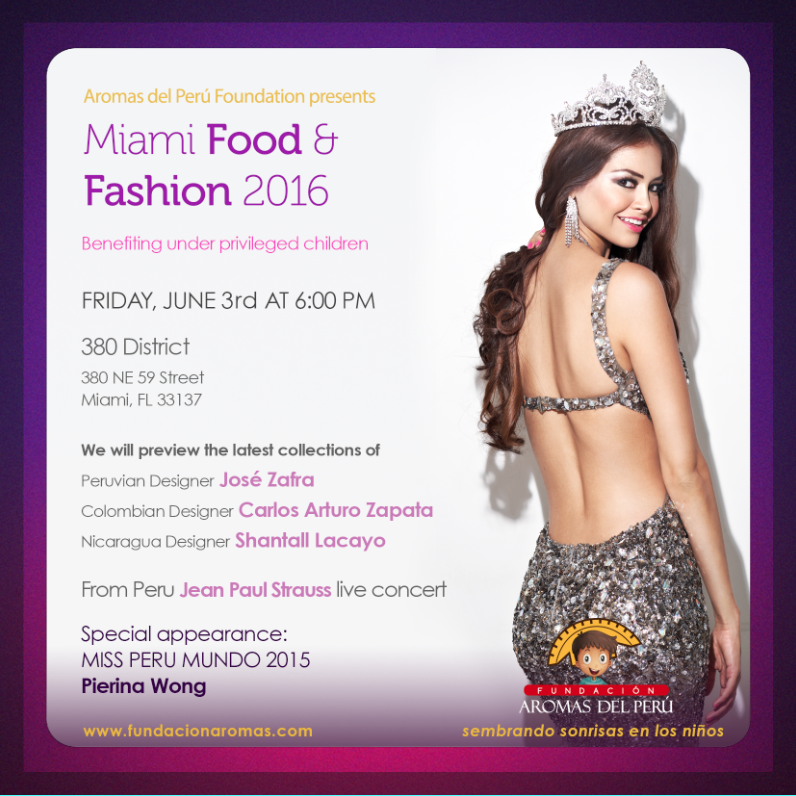 La Fundación Aromas "Sembrando Sonrisas en los Niños" dirigida por el Chef Javier Florez y su esposa Marita Astete, invitan a compartir su nueva propuesta denominada "Miami Food and Fashion 2016". Esta nueva plataforma que combina las últimas fusiones culinarias del 2016 y lo mas resaltante de la industria de la moda latinoamericana se inicia para brindar información actualizada de estas dos industrias tan importantes que cooperan con la principal misión de la Fundación que es la promoción y defensa de los derechos de los niños y adolescentes en situacion de riesgo y desamparo.
El evento contará con la presencia de los más reconocidos diseñadores latinoamericanos, entre los que podemos mencionar al diseñador peruano del momento Jose Zafra presentando su última colección. Nos acompañara adicionalmente el destacado diseñador Carlos Arturo Zapata, miembro del jurado Miss Universo. Adicionalmente se suma a esta importante causa la diseñadora Shantall Lacayo, principal promotora del talento de jovenes diseñadores dentro y fuera de su país Nicaragua, mostrando lo último de su creación. Nos acompañaran invitados especiales como Pierina Wong Miss Perú 2015, Maria Laura Ramirez Miss Mundo Nicaragua 2016, Jimena Espinoza Miss Peru Universo 2014 y el cantante peruano Jean Paul Strauss.
Los flamantes maestros de ceremonias seran la reconocida actriz peruana Silvana Arias, a quien podemos ver actualmente en la telenovela "Quién es Quién" de Telemundo y al destacado presentador colombiano William Duarte.
Una noche para disfrutar de la mejor gastronomia mundial y lo último de la moda.
Un agradecimiento muy especial a quienes hacen posible "Miami Food and Fashion 2016":
Pisco 100, Aromas del Peru, Marita Eventosy Aromas, Aromas a la Brasa, Sr. Maximiliano Palmieri de 380 District, Dr. Jaime Yañez de Piensa Antes de Comer, RG Group Imports de Pisco Cuatro Gallos, Cusqueña, Myrna Curras de Art Flowers, Perusa Chamber, Ron Barcelo, Consulado General Del Peru Miami, The Paper Store, Paola's Make Up, , Clinica Dr. Luis Barrenechea, Ron Tabernero, Miami Beach Construction Contractors, Mujer Magazine, Belmont Natural Products, Alejandro Garcia de A&G Films, Marco Gordillo de Amuerzos y Cenas, FLuis Berrios de FMS International Wines, Metropolis Gym, Ther Fratelli Boutique y muchos mas solidarios sponsors que se van sumando a esta nombre Causa. Muchas Gracias!!!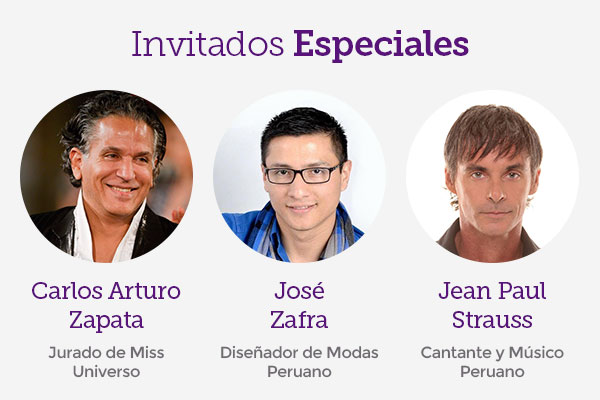 ¡Ayúdanos a apoyar a los niños más necesitados!
Capacidad limitada.

The Foundation Aromas "Sembrando Sonrisas en los Niños" headed by Chef Javier Florez and his wife Marita Astete, invited to share their new proposal called "Miami Food & Fashion 2016". This new platform that combines the latest culinary fusions of 2016 and highlights from the industry of Latin American fashion starts to provide updated information on these two important industries cooperating with the main mission of the Foundation is the promotion and defense of the rights of children and adolescents at risk and helplessness.
The event will be attended by the most renowned Latin American designers, among which we can mention the Peruvian designer Jose Zafra currently presenting his latest collection. We further accompany the leading designer Carlos Arturo Zapata, member of the jury Miss Universe. In addition to this important cause the designer Shantall Lacayo, principal developer talent of young designers inside and outside their country Nicaragua, showing the last of its creation. We accompany special guests like Pierina Wong Miss Perú 2015 and the peruvian singer Jean Paul Strauss.
The flamboyant master of ceremonies will be the recognized peruvian actress Silvana Arias, whom we see now in the soap opera "Quién es quién" Who" of Telemundo and the prominent Colombian presenter William Duarte.
A night to enjoy the best world cuisine and the latest fashion.
Help us to support needy children !!!
Limited capacity