Description
Are you starting a fashion business and wondering where to start? Are you looking for local Florida vendors to produce your line?? Are you frustrated by the fact that the fashion industry is so secretive? If so, this event is for YOU!
Fashion Angel Warrior LLC is bringing its infamous NYC Fashion Manufacturing Tours to Miami! These tours always sell out! Don't miss this opportunity as we don't know when we will be back in Florida again.
This tour that is designed to give you a comprehensive overview of the garment industry from an insider's view. Christine Daal, founder and coach of Fashion Angel Warrior, will walk you through (literally) all the tools you will need to manufacture a line from start to finish!
Catch a Sneak Peak inside our NYC tour to get an idea! Watch this video!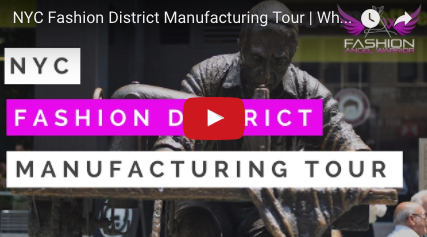 When: Friday, May 31st
Time: 8:45am - 5pm (1 hr Lunch included, exact time TBD)
Where: Miami (Meeting Spot: Starbucks-

47 W Flagler St, Miami, FL 33130)
Who: Only 9 Spots Available!
At this tour you will learn:
-How to take your idea from sketch to garment
-Where to source WHOLESALE fabrics & trims with low minimums
-Where to get patterns and grading done
-How to properly prepare to work with a manufacturer
and MORE!
Who is this tour for?
-Anyone who is starting a new fashion line
-Anyone who has a line and can't find the right domestic factory
-Anyone who needs help sourcing wholesale fabrics and trims
-Anyone who is sewing their production themselves
-Anyone who is serious and committed to making their fashion dreams happen!
*Please note this tour is not for students or hobbyists
The goal of this tour is to help you create relationships with vendors and streamline your production process so that you can cut costs and make a higher profit margin!
Save yourself the time of calling, setting up appointments, not asking the right questions, and having to present yourself to vendors. We will do it all for you!
Plus we have personally vetted these vendors so we know they will treat you good!
We will make stops at places such as;
-Wholesale fabric suppliers
-Wholesale trim suppliers
-Patternmaker
-Manufacturers
And MORE!
*The tour stops may vary depending on availability and attendees needs*
You will walk away with valuable tools including;
- A sample Tech pack & Cutting Ticket
- Tip sheets on Selecting Prints, How to work with a Patternmaker, and creating labels
- A Production Ready Checklist so you know what you will need to get yourself prepared for production
-A Fabric Sourcing Guide so you know exactly what questions to ask when sourcing wholesale fabrics
- Standard Missy Specs and Grading Rules
-A list of over 85 of our preferred vendors and suppliers
And MORE!
PLUS- Get all your questions answered by Christine Daal the Fashion Angel Warrior! My clients pay over $300/hour to ask me questions. You will get me for an entire day!!
*Well worth over $2,100 total*
Yours for ONLY $235 (until April 4th) or $285 (until May 4th). *YOU MUST PURCHASE YOUR TICKET NO LATER THAN MAY 6TH*
Register TODAY so you don't miss out as I can only accept a total of 9 individuals!!
Don't wait, reserve your space today!
PS- Please note lunch is included in this tour. If you have any dietary restrictions please let us know.
PPS- Event is rain or shine.
PPPS- The ATS Miami Show is also happening May 28th-30th so take a few days off and head over to source all your fabrics and hear us speak!
*Please note that by registering and submitting payment for this event and by your presence at the Fashion District Manufacturing Tour, you consent to be photographed, filmed and/or otherwise recorded. Your payment constitutes your consent to such photography, filming and/or recording and to any use, in any and all media in perpetuity, of your appearance, voice and name for any purpose whatsoever in connection with the production presently entitled: Fashion District Manufacturing Tour/Fashion Angel Warrior, LLC.
You understand that all photography, filming and/or recording will be done in reliance on this consent given by you by entering this agreement.
Your agreement to the foregoing will be affirmed and activated upon submission of your payment/registration to attend.
** We reserve the right to cancel this event at any time so if you are booking flights please check with us first.
Organizer of Miami Fashion Manufacturing Tour
Christine Daal is the CEO & Founder of the Fashion + Marketing Consulting Agency, Fashion Angel Warrior LLC.  Working with both start-up and established designers/entrepreneurs to help them start and grow PROFITABLE fashion businesses, Fashion Angel Warrior offers 1 on 1 coaching as well as Workshops, Online Courses and Fashion Manufacturing Tours in NYC, LA, and Miami.  Areas include; building a following and turning them into customers, driving traffic to your online store, tech packs, sourcing & negotiating manufacturing, crowdfunding campaigns, costing for profit, navigating production, and more!
We've helped clients reach 1 Mil in Sales in year one, increase their online traffic 200%, double online sales, grow from 2-24K followers in less than a year, raise $20K via kickstarter, get their line in Vogue Italia, NYFW, and on A list celebs, etc and we'd love to help do the same for you!
Want FREE Business help?  Join The Fearless Fashionpreneur Group on FB! 
Christine Daal
Fashion Business Coach
Web: http://fashionangelwarrior.com/ 
IG: http://instagram.com/fashionangelwarrior
Youtube: http://youtube.com/fashionangelwarrior