Sales Have Ended
Ticket sales have ended
Please follow us on FB for event details https://www.facebook.com/metlifetakeover/
Sales Have Ended
Ticket sales have ended
Please follow us on FB for event details https://www.facebook.com/metlifetakeover/
Description
YOU CAN STILL SIGN UP LAST MINUTE FOR THE TAILGATE! THIS IS GOING TO BE AN EPIC PARTY!
We Are Throwing A Huge DOLPHINS FANS ONLY Tailgate Party! The perfect, all-inclusive, no worries tailgate setup! We'll take care of everything so you can focus on having fun! Bringing Miami to MetLife!

DOLFANS NYC #METLIFETAKEOVER vs. Jets, Sunday, 1pm on 9/24/17. The more Dolphins fans the better!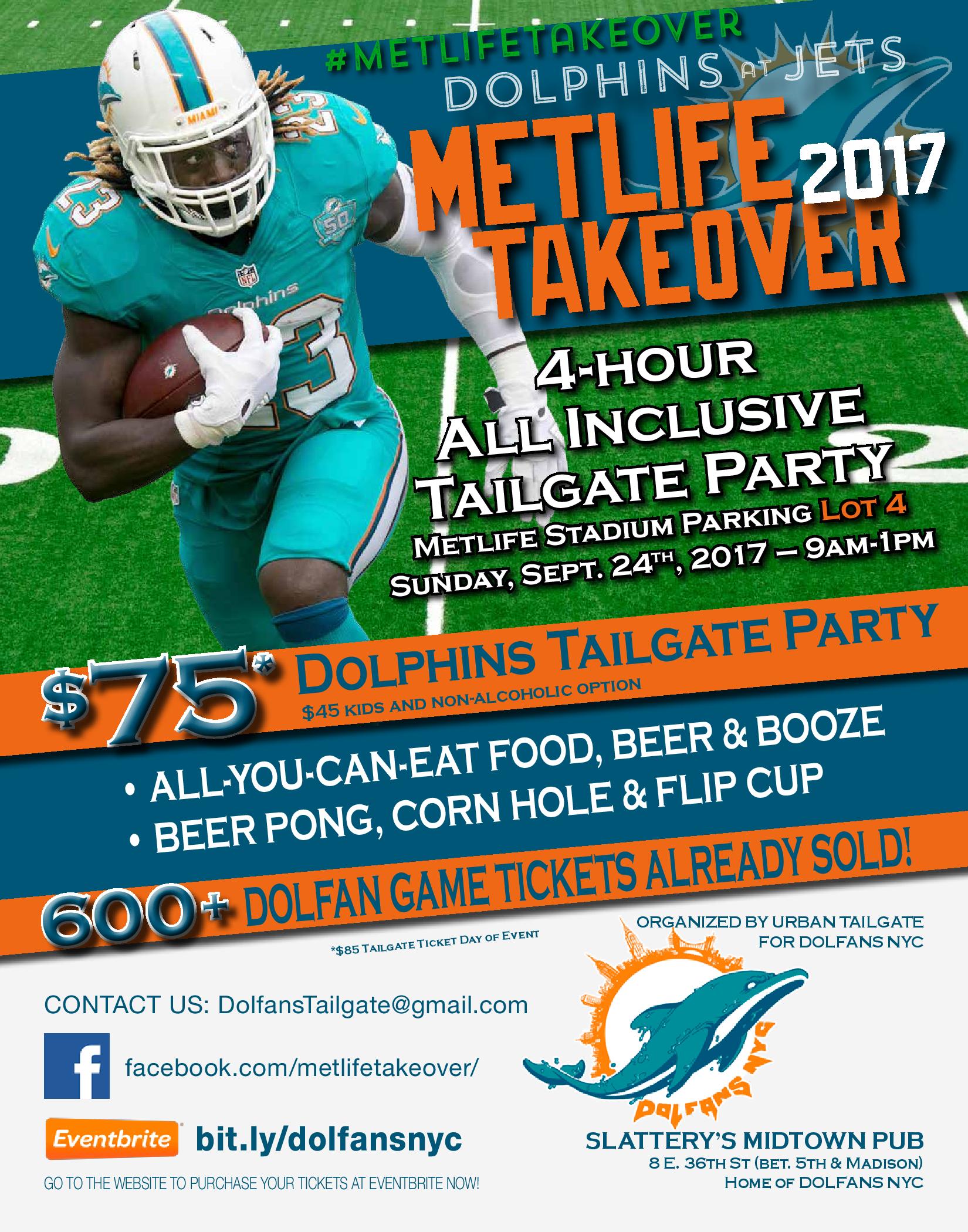 JOIN DOLFANS NYC for THE LARGEST VISITING TAILGATE TAKEOVER IN NEW YORK HISTORY!
TAILGATE PARTY DETAILS: 4-Hour, All You Can Drink and Eat, DOLPHINS Themed Party

Fully Catered hot food including; sausage and peppers, chicken marsala, BBQ pulled pork, penne a la vodka, hot dogs, hamburgers, chicken scarpiello, veggie burgers, and more!
Plus We Have A Professional Tailgate Setup Including:
- CHEF and BARTENDER - BEER PONG - CORN HOLE - FLIP CUP
- BEER KEG TAP SYSTEM - TENTS - GRILLS - ICE - DJ - etc.

TAILGATE PARTY (4-Hours, ALL YOU CAN DRINK and EAT) - $75
TAILGATE PARTY (Kids and Non-Alcoholic Option) - $45
We continue to get bigger and better every year and This Tailgate Will Be Epic! Everything will be taken care of for you, so you can relax and party! There will be Kegs, Beer Pong, Corn Hole, Tents, Sodas, Water, Burgers, Brats, Vegetarian Options etc.
Game Tickets to join the 600+ DOLFANS sitting together, and the DOLFANS NYC CHARTER BUS tickets are available only at #MetLifeTakeover
Dolfans NYC Charter Bus will leave Slattery's Midtown Pub (36th between 5th & Madison) at 8am and come directly to the #MetLifeTakeover Tailgate Party, and then will deliver you safely back to NYC after our victory.
We will be setting up in the bus parking area of MetLife Stadium. (Usually Lot L4, We'll text, tweet, Instagram, and facebook the details that morning when the parking lot opens)
Feel free to email me any questions.
FAQs:

Do I need to print out my Tailgate eventbrite purchase?
No. We have an electronic list, so you should be all good. It never hurts to have a backup for all those who buy last minute though.
Where is the #METLIFETAKEOVER Tailgate Party?
We should be in the Charter Bus PARKING LOT L4, but we won't know exactly until they open the parking lot. We will then post the location on Eventbrite, and Facebook. You will see all our DOLPHINS Flags on 25' Flag Poles!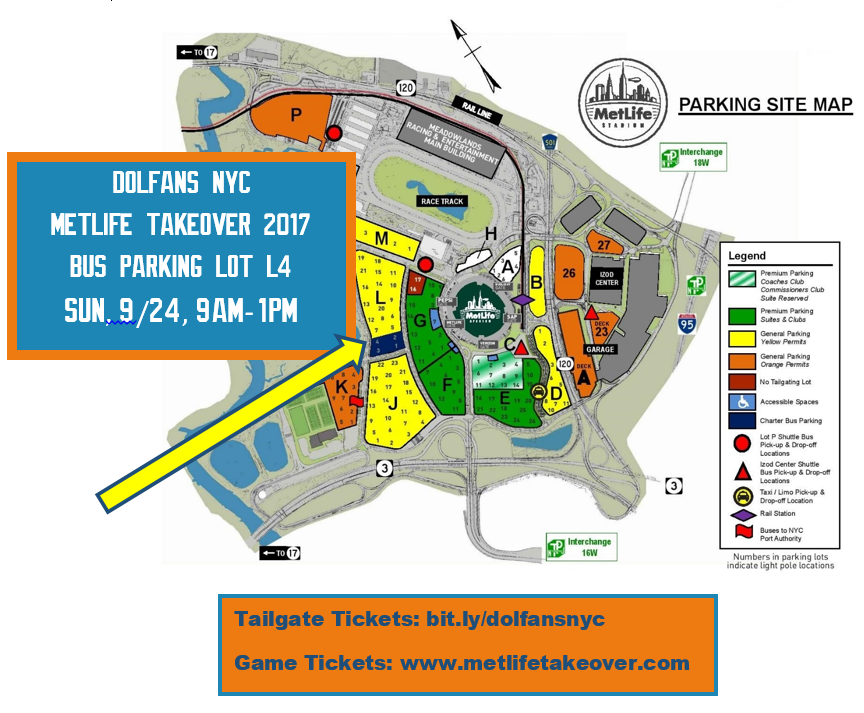 Can I come to the MetLife Takeover Tailgate Party even though I already have game tickets somewhere else?
Absolutely! The more Dolphins fans the better!

Can I show up at the Tailgate party and buy a Tailgate Ticket there?
Yes, but the price goes up to $85 after 9/15/17, so buy now to save.
My friends are not Dolphins fans can I bring them?
As long as they know that they are at a DOLPHINS party and aren't jerks, we're open to all fun, party people.
Do you have anything for vegetarians?
Yes, we have a plenty of options including veggie burgers, veggie dips, penne pasta, etc
Where can I join the Dolfans NYC #METLIFETAKEOVER facebook group to find all the details?

Does my tailgate ticket get me into the game also?
No. You have to buy the game ticket separately.
Where can I buy Dolfans Group Tickets to sit with the hundreds of fellow fans?
Where exactly is the Dolfans Fan Section Seats for the game?
It's in the 300's, sitting surrounded by 600+ fellow Dolphin fans.
Where can I buy Dolfans Charter bus tickets, to go direct from Slattery's to the tailgate party, then home after the game?
Are there refunds if I can't make it to the events?
No. We have to plan food and drink in advance for the people committed and we are buying the tickets from the teams in advance and the don't refund us, so since we can't get refunded, we can't offer refunds to you. Event is rain or shine.