Location
Legion Park Farmers Market
6601 Biscayne Boulevard
Miami, FL 33138
All dogs are winners at the Legion Park Farmers Market as we celebrate our furry companions and raise funds for wild life rescue.
About this event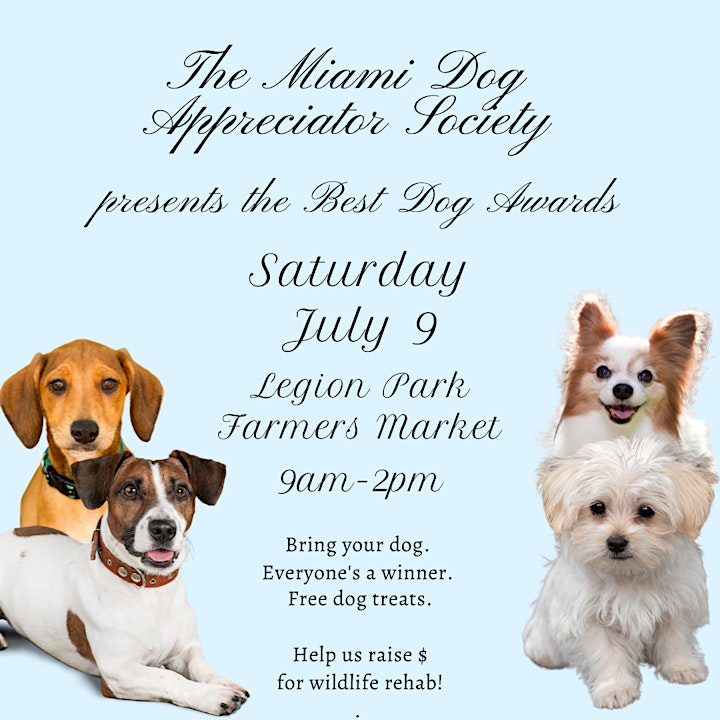 The newly formed Miami Dog Appreciator Society welcomes all animal lovers to our first dog awards event taking place at the Legion Park Farmers Market on July 9th from 9am-2pm.
Each dog gets a certificate and a treat! It is free to participate and attend!
Come and bring your pet or come to hang out with other peoples' pets!
The Legion Park Farmers Market is a fabulous venue, filled with romantic shady trees, tons of incredible local makers and vendors selling everything from soaps to kombucha to jamaican patties and everything inbetween, locally grown and organic produce from Urban Oasis, free yoga starting at 10am (bring your own yoga mat), and a fabulous community of people. PLUS TONS OF CUTE DOGS!
We will be fundraising for the Pelican Harbor Organization, founded in 1980 for the purpose of caring for injured brown pelicans and has grown into an internationally recognized center for seabird rehabilitation. The Seabird Station located in Miami accepts all native birds, mammals, and reptiles. Injured wildlife can be dropped off 24 hours a day, 365 days a year.
Feel free to donate to the organization through their website Pelican Harbor Organization, via a donation with your Eventbrite RSVP, or at our first Dog Award Show!
This event is organized and hosted by the creative duo Pangea Kali Virga and Nico Hough, animal enthusiasts, performance artists, and founders of the Miami Dog Appreciator Society.