Actions and Detail Panel
Miami Cuban Sandwich Smackdown @CALLE OCHO (3rd Annual)
Sun, March 12, 2017, 10:00 AM – 7:00 PM EDT
Description
BIG NEWS for the Miami Cuban Sandwich Smackdown!
The Miami Festival is set for Sunday, March 12th, 2017 and has joined forces with Calle Ocho – over 1,000,000 people attend this annual festival! Latin Times Media, Inc, creators of the annual international Cuban Sandwich Festival, and The Kiwanis Club of Little Havana, the creators of nation's biggest Hispanic Festival: Calle Ocho are pleased to announce their union! The 3rd Annual Miami Cuban Sandwich Smackdown will be held at Calle Ocho on Sunday, March 12th, 2017, where over 1 MILLION visitors from around the globe travel to the largest Hispanic street festival in the United States, during the 40th Annual Calle Ocho Festival or "El Festival de la Calle Ocho". More than one million event-goers join the internationally renowned block party to celebrate Hispanic cultures from around the world on Miami's legendary Calle Ocho (8th street.) The 19-block strip in Little Havana will vibrate with the hip-shaking rhythms of Latin music from salsa to hip-hop, including street performers and eight dedicated stages. Throughout the afternoon, event-goers can join street dancers or create their own conga line as they bring the music to life; enjoy hundreds of international food kiosks simmering with authentic local and Latin flavors, sample products from many national brands and now the BEST Cuban Sandwiches in the world! We will also be attempting to make the BIGGEST Cuban Sandwich in the World, the current record is for 128 Ft and is held by Latin Times Media, Inc., in Tampa, Florida!

Review 2016 Winners Visit and keep up with current updates:www.iLOVECubanSandwiches.com
Do you think you make the BEST Cuban Sandwich? Register NOW in one of our upcoming Cuban Sandwich Festival Smackdowns! CubanSandwichFestival@Latin-Times.com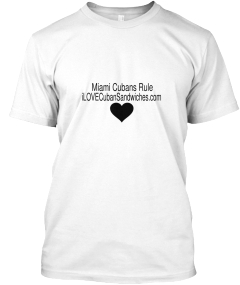 Miami Cuban Sandwich Smackdown @CALLE...
$21.99
We partnered with Teespring to create some awesome merchandise for this event. Show your support and look good wearing it. Check it out!