Description
If you're looking for an adventurous Wednesday night out. Barter Comedy Night in Wynwood offers an open bar for the ladies during showtime. Reserve your seats and arrive by 9 PM!
---
This special live event is all about you. The stage room at Barter offers reserved seating, drinks and dining options where you can laugh it up with our monthly Miami Comedy Roast Battle!

You will no longer need to wait until the next Roast special on TV, you can join us for this live event of hilarious insults flying across the room at Barter Wynwood.
Help us choose the best insults as comedians have a chance to win cash prizes.
All table seating accommodations require a Two Drink purchase during showtime, ladies then drink free after 10pm.
Every Wednesday is ladies' night at Barter, and we offer live entertainment to elevate your drinking experience!
Every WEDNESDAY at Barter Wynwood.
Reservations honored until 9 PM, Dinner Seating begins at 8:15pm.
$10 cover after 9PM
Free Open Bar Well Drinks for the ladies with eventbrite sign up registration!

Full Bar Available: Beers, Wines, and Specially Crafted Cocktails

Food: creations and share plates available to order
Great night out for date night, social get-togethers, celebrations, and co-workers!

Hookah: flavors and services now available!

All table seating accommodations require a Two Drink purchase during showtime
Local Miami Comedians Showcase with special guest appearances
Have a Funny Story to tell? Open Mic after the show
Save on the bar tabs: Join our Miami Comedy Membership for complimentary drinks: miamicomedy.com/access

All guests must be at least 21 years old to attend.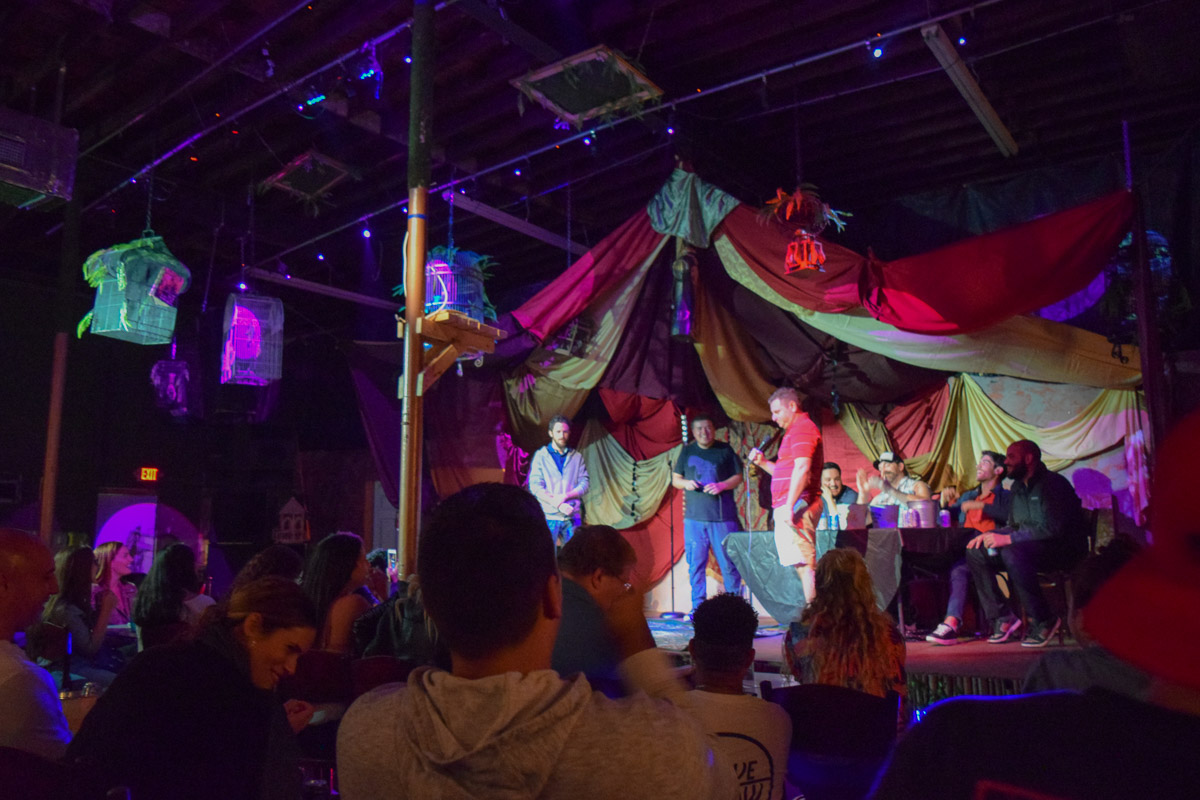 About The Roast Battle
The insults fly across the room whenever you attend our ongoing Miami Comedy Roast Battle.
This unique take of a Miami Stand Up Comedy show is our special take for laughs to any cynical person living in the Magic City.
Local Miami comedians are coupled and a referee organizes insult after insult while the judges take note on the audiences reaction.
Media
Celebrating a Birthday?
Barter Wynwood and Miami Comedy welcome all birthday parties by offering a free round of drinks for you and your guests on the house!
Birthday parties of 6+ or more will receive a complimentary bottle of champagne too!
Please make your reservations in advance by emailing info@barterwynwood.com or manny@miamicomedy.com
About Barter
Located in Wynwood and inspired by the all the art around us, we have created a laid back atmosphere for you to eat modern Latin cuisine, imbibe in well-made cocktails or admire our collection of vintage items, which we are always looking to trade with you if you have something that tickles our fancy.
About Miami Comedy
MiamiComedy.com has produced independent comedy events for years. Often imitated, but never duplicated. We are the original Miami Comedy production company finding authentic performers and curate entertaining live shows for people who love to laugh it up and enjoy the true art of stand up comedy in Miami. As seen on Amazon Prime Video "Respect the Light" the Miami New Times, Culture Crusaders, the Miami Improv and UNATION. We do pop up shows all over the Magic City, in all your favorite bars, restaurants, lounges and theaters! We make each experience unique with its own environment, drinking and dining menus!
Questions? Special Occasions? Get them answered here:
Email: manny@miamicomedy.com
Phone / SMS / Text: 305-498-7739
Chat: miamicomedy.com