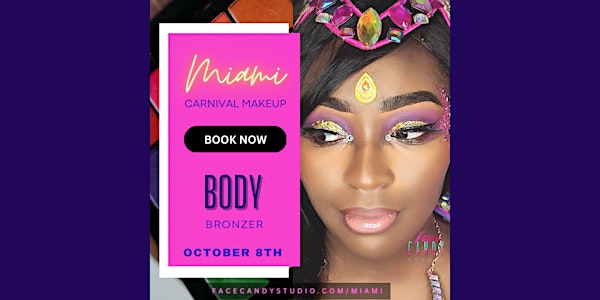 Miami Carnival Makeup Deposit with Face Candy Studio
Carnival Makeup with lots of glitter, lots of bling
By Face Candy Studio Team
Date and time
Sunday, October 8 · 6am - 12pm EDT
Location
DoubleTree by Hilton Doral 10250 NW 19th St Miami, FL 33172
About this event
This is MIAMI CARNIVAL MAKEUP - with lots of glitter and lots of bling.
DIVA AIRBRUSH MAKEUP ($105 USD) INCLUDES:
Full face sweat-proof airbrush makeup application
Bright eye shadow, sculpted brows, lip color
Mink eyelash and eyelash application
Multi-colored bling jeweled rhinestones
Metallic body tattoo
Mini headshot photoshoot
Champagne and refreshments
Digital check-in
Note: If you would like eye makeup and eyelash service only (with no foundation or rhinestones) - Request a discount. Adding those omitted services on the day of your appointment will result in a surcharge.
Things to know:
If you come on time, you would leave on time.
Appointments run between 45 and 75 minutes.
Body glitter/design is available and adds time to your experience.
All appointments are at our popup shop, 5 minutes away from the carnival parade..
Walk-in appointments are not available
Group discounts are available. DM @facecandystudio on Instagram
Balance Payment :
Your carnival makeup deposit would hold your carnival makeup appointment up to 60 days after purchase.
Immediately after you place your deposit, you would receive an email with your invoice balance and makeup appointment.
 See Face Candy Studio at Previous Carnivals
https://www.youtube.com/watch?v=wh44JBymZ7k
https://www.youtube.com/watch?v=ilYfaDLubgM
https://www.youtube.com/watch?v=E7BjHibsQJc&t=3s
 ****************FAQs****************
Could I give multiple deposits if I'd rather pay for my appointment in full with one payment?
The short answer, is no. You are responsible for the balance of all the deposits you make for carnival makeup appointments.
What is the refund policy?
Refunds would be offered in the event that Miami Carnival is cancelled (and no bands are on the road). Otherwise, you will receive a credit for a future carnival service.
Can I change my appointment time after paying my deposit?
No, you may not change your appointment time. However, on the day of, you are welcome to come at a time more convenient to you. (You may have an extra 20-30 minute wait time to see an artist.)  
What happens if I'm late for my appointment?
We will still provide great makeup service even if you're an hour or two late. However, be prepared to wait.... priority is given to those customers who arrive on time. If you arrive after 11:30am, your appointment would be completely canceled.
My friend is coming with me on the road. Could she wait for me in the same room I'm getting my makeup appointment?
No. Unfortunately, if you bring a friend who does not have an appointment, she will have to stay in a separate room until your appointment is complete.
Need to ask another question?
Email the team at info@facecandystudio.com or DM us @facecandystudio
About the organizer
Face Candy Studio is a makeup team that specializes in exotic carnival makeup. This , down-to-earth crew of professional west indian makeup artists travel to several Caribbean Carnivals, domestically and internationally, to transform masqueraders into beautiful, exotic eye candy.