Event Information
Performers
Chance The Rapper, Jack Johnson, Daddy Yankee, Kygo
The Raconteurs, Juanes, Leon Bridges, Maggie Rogers, The Roots , Nile Rodgers & Chic, Sean Paul, T-Pain, Jessie Reyez, Bomba Estéreo, Quinn XCII, Natti Natasha, Gryffin, Brytiago, Margo Price, Chelsea Cutler, Kim Petras, Two Feet, Lali, Magic City Hippies, Monsieur Periné, Rauw Alejandro, Ashe, Magic Giant, Roosevelt Collier, Reignwolf, Cimafunk, The Hip Abduction, Zander, Steven A. Clark, Spam Allstars, Richie Hell, Afrobeta, Stephen Marley, Ben Folds
About this Event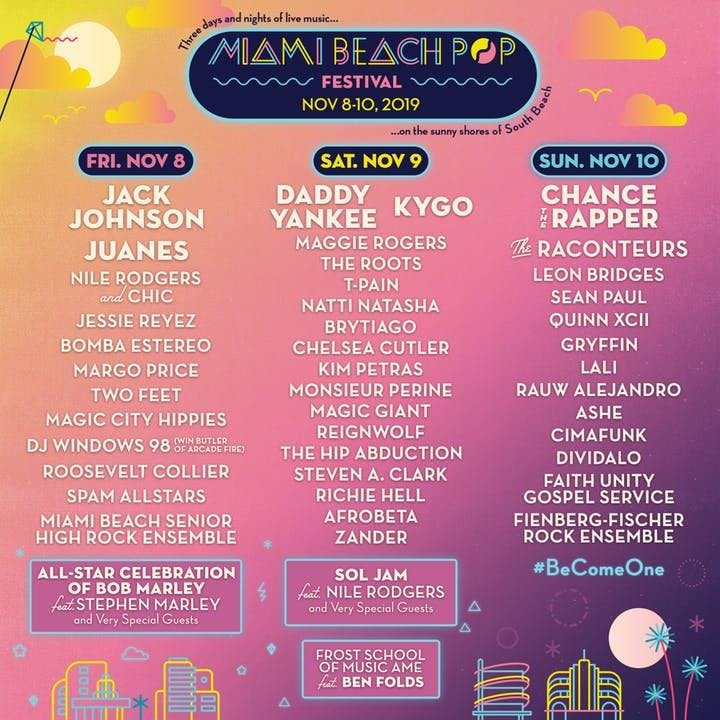 Miami Beach Pop celebrates its home by reflecting the city's extraordinary cultural diversity with a groundbreaking selection of artists. Chance the Rapper, Jack Johnson, Daddy Yankee, and Kygo will headline the three-day festival, along with The Raconteurs, Juanes, Maggie Rogers, Leon Bridges, The Roots, Nile Rodgers and Chic, Sean Paul, T-Pain, Jessie Reyez, Bomba Estereo, Quinn XCII, Natti Natasha, Gryffin, Brytiago, Margo Price, Chelsea Cutler, Kim Petras, Two Feet, Lali, Magic City Hippies, Monsieur Perine, DJ Windows 98 (Win Butler of Arcade Fire), Rauw Alejandro, Ashe, Magic Giant, Roosevelt Collier, Reignwolf, Cimafunk, The Hip Abduction, Zander, Steven A Clark, Spam Allstars, Richie Hell, Afrobeta, the Miami Beach Senior High Rock Ensemble, and many more! Superstar collaborative sets include the Sol Jam featuring Nile Rodgers and many special guests to be announced; an All-Star Celebration of Bob Marley featuring Stephen Marley and many special guests to be announced; and the Frost School of Music American Music Ensemble featuring Ben Folds.
Culinary Host Michael Schwartz, a James Beard award-winning chef-restaurateur, will curate the culinary lineup at Miami Beach Pop Festival with a nod to the city's cross-cultural cuisine.
The vibrant three-day experience of Miami Beach Pop will spotlight sustainable event practices and provide attendees with the knowledge and tools to embrace a more eco-friendly lifestyle. South Florida is one of the most fragile, ecologically sensitive, and environmentally significant regions on our planet. The Festival is committed to working collaboratively with the City of Miami Beach, a global leader in efforts to mitigate the effects of sea level rise, through a comprehensive range of programs. For detailed information, click here.
Miami Beach Pop is a festival for all people to share moments of joy and inspiration through live music; an opportunity to remind ourselves of what unites us as people, and to celebrate what makes us unique. Surrounded by the iconic art deco scenery of Ocean Drive, the natural backdrop of the beach, the fresh air, and the ocean breeze, we will become immersed in the diverse, vibrant flavors of Miami Beach.
Eventbrite is the official platform for GA & VIP Miami Beach Pop tickets and hotel packages.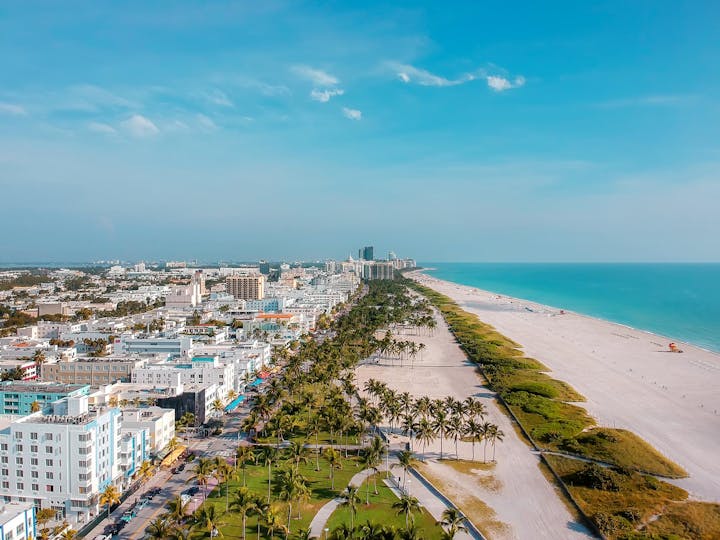 Performers
Chance The Rapper, Jack Johnson, Daddy Yankee, Kygo
The Raconteurs, Juanes, Leon Bridges, Maggie Rogers, The Roots , Nile Rodgers & Chic, Sean Paul, T-Pain, Jessie Reyez, Bomba Estéreo, Quinn XCII, Natti Natasha, Gryffin, Brytiago, Margo Price, Chelsea Cutler, Kim Petras, Two Feet, Lali, Magic City Hippies, Monsieur Periné, Rauw Alejandro, Ashe, Magic Giant, Roosevelt Collier, Reignwolf, Cimafunk, The Hip Abduction, Zander, Steven A. Clark, Spam Allstars, Richie Hell, Afrobeta, Stephen Marley, Ben Folds
Date and Time
Location
Refund Policy