About this Event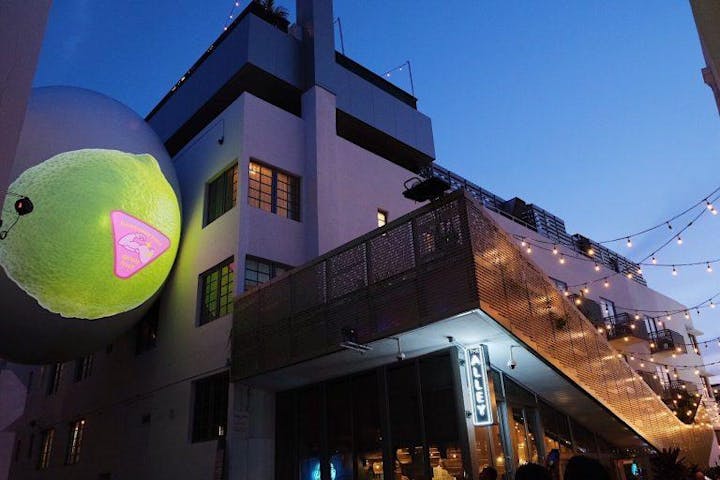 The City of Miami Beach's Tourism & Culture Department is working alongside some of the world's best cultural institutions to provide a night of free, unique and unforgettable experiences. Every third Thursday of the month, from 6 p.m. to 9 p.m., Miami Beach will become alive with culture as various institutions and buildings open their doors to give you just a taste of what they have to offer. From backstage tours, exhibition openings, and free film screenings in the park, there will be something for everyone. All events are free unless otherwise noted.
The majority of the programming is accessible by foot and by bike, but we will also offer four dedicated free trolleys (the white ones) complete with Art Deco tour guides, that will drop you off and pick you up at our dedicated Culture Crawl stops – check out our map to find your closest stop.
Let's hit the street and get our monthly dose of culture – you can @ us at @miamibeachnews to hop into our DM's or use hashtag #MBArtsAndCulture to be a part of the story!
What's currently scheduled for October 17, 2019:
Holocaust Memorial
1933 Merdian Avenue | www.holocaustmemorialmiamibeach.org | Discover the story of local Holocaust Survivors via free continuous screenings of the award-winning film "Survivor" in the Memorial's reception room. Afterwards, guests are invited to explore the artistry of the Holocaust Memorial for a moment of reflection and contemplation.
Miami New Drama
1040 Lincoln Road | www.colonymb.org | Tour the backstage of the Colony Theatre as technical and design elements come together for the season premiere of Bridge of San Luis Rey. Get an inside look at the theatre making process, history on the Colony Theatre, and an overall introduction to Miami New Drama's work.
O, Miami
1440 Ocean Drive | www.omiami.org | O, Miami will feature the work of 2019 Prison Poet Laureate, Eduardo "Echo" Martinez, on The Betsy Orb. The laureateship designates one poet currently incarcerated in the State of Florida to serve a term of one calendar year, with the mission of increasing visibility of Florida's prison population and promoting rehabilitation through the arts.
FIU MBUS
1618 Washington Avenue | www.carta.fiu.edu/mbus | There is never something not happening at Miami Beach Urban Studios, if you don't believe us come see for yourself. Tours, Galleries, Art Exhibitions, Studios, 3D Printing Demonstrations, and Networking with Miami Designers. Join us for a night that you don't want to miss! Main Gallery: David Chang – Landscapes, Design Gallery: Macro to Micro / Mapping Infrastructures, Curatorial Gallery: Echoes of Waste - Work by Brandi Long (MFA 2022), and Studio / Gallery Tours & 3D Printing Demonstrations 6 p.m. - 9 p.m.
Miami Beach Regional Library
227 22 Street | http://www.mdpls.org/branches/miami-beach-regional-library.html | The Eagle and the Condor, a journey through the Americas from Mexico to Peru, with traditional music and folkloric dance.
Miami Design Preservation League
1001 Ocean Drive | www.mdpl.org | Come see our Fall 2019 Exhibition "DECO FASHION: PAINTED ILLUSTRATION" showcasing the art of Andres Conde & Barbara Hulanicki and dance with us to the 1920s with DJ Owani!
NWS
500 17 Street | www.nws.edu | Experience a concert conducted by this year's Kennedy Center honoree Michael Tilson Thomas, in the world-renowned New World Center. This event is part of the New World Symphony's Viola Festival. Limited free tickets available on a first come, first served basis at the box-office (please mention Culture Crawl) from 6:00pm for the concert starting at 7:30pm. Children must be at least 8 years of age.
The Bass
2100 Collins Avenue | www.thebass.org | Enjoy exhibitions open free of charge with docent-led tours, plus cocktails and snacks available for purchase from The Café. From 6:30-8 PM, develop your figure drawing skills with a live model through timed sketches with our monthly art-making workshop, Art After Hours ($15, $10 for members). Wine included (21+)! Pre-registration for Art After Hours is required at thebass.org/aah.
Wolfsonian-FIU
1001 Washington Avenue | www.wolfsonian.org | A special encore of Corporeal Decorum, artist Liony Garcia's research-based dance piece inspired by Miami Beach's iconic Deco architecture. Performances will continue throughout the night, beginning at 6:30 p.m., 7:30 p.m., and 8:30 p.m..
Oolite Arts
924 Lincoln Road | www.oolitearts.org | View On the Road II curated by Larry Ossei-Mensah. The exhibition is loosely inspired by Jack Kerouac's 1957 Beat Generation novel On the Road, which explores the travels of young men across postwar America. Also visit resident artists who will open their studios to the public.
The Betsy South Beach
1440 Ocean Drive | www.thebetsyhotel.com | Property-wide art exhibitions, poetry projections on The Betsy Orb, and Latin Music night in the Lobby. Stop in for a special exhibition of Andy Sweet's Photography in LT Steak and Seafood and the hotel Lobby.
Miami Beach Botanical Garden
2000 Convention Center Drive | www.mbgarden.org | Garden After Dark' season kicks off with mindfulness & art. Modern ŌM's Cushion Crawl is making a stop to host a mindful meditation from 7 p.m. -8 p.m.. Meet artist and illustrator Sara Averbook Kaplan, at the reveal of her latest exhibit, "Implanted," which includes images of the Garden's new coloring book.
Jewish Museum of Florida - FIU
301 Washington Avenue | www.jmof.fiu.edu | Visitors will see the new exhibition Mira Lehr: A Walk in the Garden, a site-specific installation that takes the viewer through a magical journey in a fantastical garden. Also on view is Preservation and Renewal: Bauhaus and International Style Buildings in Tel Aviv. Enjoy complimentary Kosher wine.
Miami Beach Cinematheque:
1130 Washington Avenue | www.mbcinema.com | Night of the Living Dead @ O Cinema South Beach! In honor of October's Culture Crawl, O Cinema South Beach will be hosting a free screening of the iconic classic that started it all, NIGHT OF THE LIVING DEAD! Released in 1968 and made on a shoestring, George A. Romero's NIGHT OF THE LIVING DEAD has gone on to become one of the most influential films of all time, ushering in an era of visually powerful, socially engaged horror that reflected the political anxieties of the era.
Office Hoops Tournament & Parks and Recreation Marathon:
2100 Collins Ave | www.departmentofreflection.org| With Mayor Dan Gelber and Bookleggers. Please join the Department of Reflection as they host, together with Miami Beach Dan Gelber, an office hoops tournament followed by a curated marathon of everyone's favorite municipal parody Parks and Recreation. Come hang out with your Mayor in a relaxed and fun environment! Bookleggers will be on site with a special selection of free books.
Washington Avenue Business Improvement District:
15 locations, 5 - 17 Streets on Washington Avenue | www.washavemb.com | Live Music Series, 15 locations, 5 - 17 streets on Washington Avenue.
Media Partnership with The New Tropic. Registration is encouraged but not mandatory. Send Questions or comments to ArtsandCulture@miamibeachfl.gov.