Sales Have Ended
Ticket sales have ended
Thank you for your interest in Mi Tierra!!! Please register here to receive information about our events, initatives and in the case seats become available. http://ogstudio.us3.list-manage2.com/subscribe?u=c9ed99e422a3fa792d6b7e03a&id=e3aeb3d351 Sincerely, YoSoyM Team
Sales Have Ended
Ticket sales have ended
Thank you for your interest in Mi Tierra!!! Please register here to receive information about our events, initatives and in the case seats become available. http://ogstudio.us3.list-manage2.com/subscribe?u=c9ed99e422a3fa792d6b7e03a&id=e3aeb3d351 Sincerely, YoSoyM Team
Description
THIS EVENT IS SOLD OUT!!
LOS BOLETOS PARA ESTE EVENTO SE HAN AGOTADO!


September 11 th, 2016
Celebrate Hispanic Heritage / Un Evento Cultural Latinoamericano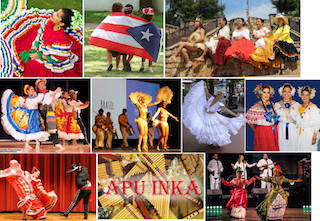 A folkloric journey through Latin America! For the first time, all Latinamerican regions are represented on one stage. Learn and discover Hispanic Heritage music, dance and traditions featuring the best local and regional talent in Georgia.
This is a family-friendly event. Limited food and beverages available for sale at the hotel. Please note there are 2 shows, at 2pm and 4pm. We ask you to arrive an hour earlier to check-in and visit the bazaar.
---------------
Ven con tu familia y amigos y disfruta de un recorrido musical por Latinoamérica.
Revive las tradiciones de nuestros países, aprecia los bailes, trajes y la música
que llega al corazón. Además encuentra productos artesanales de nuestros países!
¡Celebra el orgullo de ser Latina con tu familia y amigos!
GRACIAS! THANK YOU! to all the groups that will be representing their countries!
USA: The USA National Anthem by Isabella Marquez
Mexico: Ballet Folklórico Danceando & Alma Mexicana
Panama: Somos Panamá
The Caribbean Islands!
Venezuela: Grupo ALMAS
Colombia: Danzas Genéricas de Colombia
Peru: Apu Inka & Asociación Cultural Aklla Sumaq
Brasil: Passo a Frente
Uruguay: Grupo Cimarrón
& many more! Stay tuned!!
"Mi Tierra" is generously supported and sponsored by:

FAQs
¿Qué incluye mi ticket?
Entrada a una de las dos funciones del recorrido musical por Latinoamérica. Disfruta de una presentación cultural de una hora y media que incluye bailes de cuatro regiones: México, Centroamérica, El Caribe y Sudamérica y acceso al Bazar Latino
¿Hay asientos asignados?
Tu ticket te da acceso a presenciar el show durante 1.5 horas, los asientos están reservados pero no tienen número. Llega temprano y elige el tuyo!
¿Habrá comida?
El hotel ofrecerá algunos bocadillos y bebidas por un costo de entre $5-$10.
¿Habrá actividades para niños?
Si! tendremos actividades sin costo adicional como pinta caritas y fotos con un minion patrocinadas por nuestros amigos de "Que Pasa en Atlanta"
¿Quiénes harán el show?
Asociaciones folklóricas y músicos profesionales de nuestros países representarán de la mejor manera nuestras tradiciones.
¿Quién organiza éste evento?
YoSoyM, LLC un emprendimiento social que busca celebrar y fortalecer a las mujeres Latinas y sus familias en Georgia. El show y el talento está manejado por nuestros amigos de Danceando Promotions, expertos en cultural latinoamericana.

Organizer of Mi Tierra, Celebrate Hispanic Heritage!

YoSoyM is the first social venture dedicated to celebrate and empower Latinas in Georgia.
ACCESS * KEY INFORMATION * POSITIVE NARRATIVE
 We build communities and design grass-roots initiatives that connect Latinas with key information, resources and tools Latinas need to make informed and responsible decisions for their families and their future.
 We believe that empowering Latinas will lead to a stronger and healthier community.
###
Nuestra misión es Fortalecer, Orientar y Transformar las vidas de latinas viviendo en Estados Unidos mediante la facilitación de información, creación de eventos y el establecimiento de alianzas  con organizaciones, negocios e individuos que buscan impulsar el potencial de las mujeres en diferentes áreas.
Creemos que el fortalecimiento de las mujeres llevará a crear una comunidad más fuerte y saludable.