Description
Tickets on sale: General Public - Thurs. May 10 @ 10am
Enthusiast Member Pre-Sale - Tues. May 8 & Wed. May 9
Brewery Member / Allied Trade Pre-Sale - Mon. April 30 to Fri. May 4
The 21th Annual Michigan Brewers Guild's Summer Beer Festival is the largest Michigan-only beer festival in the state. Held along the banks of the Huron River, the event welcomes approximately 150 Michigan breweries sampling more than 1,000 different Michigan-made craft beers.
15 sampling tokens are included in the price of a ticket, and additional tokens are for sale at the event for just 50 cents. Food will be also available for purchase inside the festival, and guests will enjoy live music from a variety of Michigan bands.
More information at mibeer.com/summer-festival.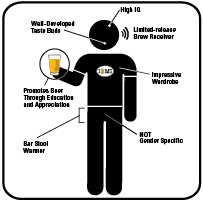 Be a VIP! - Do you want to get into the festival an hour before the general public, get access to exclusive specialty brews and avoid the lines? We invite you to become an Enthusiast Member of the Michigan Brewers Guild for just $55 a year – which includes early admission to all four Guild festivals, access to ticket pre-sales, a subscription to our quarterly Enthusiast magazine, MiBrew, and a cool t-shirt. To purchase your Enthusiast membership, visit www.mibeer.com/enthusiast-membership.