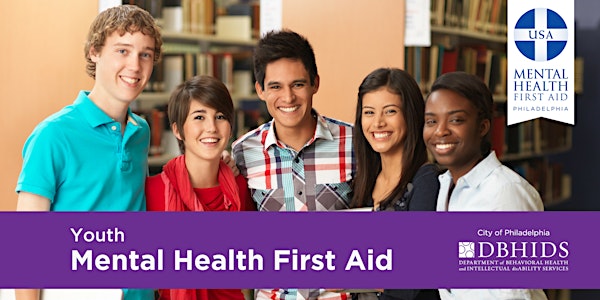 MHFA Virtual Youth Training
Learn the warning signs and how YOU can help!
By YOUTH Mental Health First Aid (Philadelphia)
Date and time
Wednesday, June 21 · 7am - 1pm PDT
About this event
Youth Mental Health First Aid is designed to teach parents, family members, caregivers, teachers, school staff, peers, neighbors, health and human services workers, and other caring citizens how to help youth who are experiencing mental health or addiction challenges or crises. Youth Mental Health First Aid is primarily designed for adults who regularly interact with young people. The course introduces common mental health challenges for youth, reviews typical adolescent development, and teaches a 5-step action plan for how to help young people in both crisis and non-crisis situations. Topics covered include anxiety, depression, substance use, disorders in which psychosis may occur, disruptive behavior disorders (including AD/HD), and eating disorders.
PLEASE NOTE: Virtual trainings are best experienced on a laptop or personal computer and require the completion of both the 2-hour self-paced webinar AND the 5.5-hour Instructor-Led training session to receive the 3-year national certification.
Training Date and Time: Wednesday, June 21, 2023 (10:00 AM-4:00PM )
About the organizer
Mental Health First Aid® (MHFA) Virtual Training
Sponsored by the City of Philadelphia, Department of Behavioral Health and Intellectual disAbility Services
The Adult MHFA virtual training is based on new curricula that includes expanded content on trauma, addiction, and self-care. Youth MHFA includes new content applicable for adults working with young people, including content on the impact of social media. The content is gender-neutral and culturally relevant.
Similar to CPR, Mental Health First Aiders learn basic skills to help another person in need of support. Mental Health First Aid teaches how to assist a person who may be struggling with mental health or addiction challenges, and what to do if the person you are helping is in crisis.
Research shows that people are more likely to assist another person after this training, and more likely to recommend treatment resources. This training has also shown to decrease stigma toward people with behavioral health challenges.
First Aiders will complete the Self-Paced Pre-work prior to participating in a 5.5-hour, Instructor-led class using videoconferencing technology. Completion of both courses is required to obtain the 3-year national certification as a Mental Health First Aider.
Questions? Please email: mhfa_philly@pmhcc.org or call (215) 685-3755
This course is provided at NO COST to those who live, work or study in the City of Philadelphia.