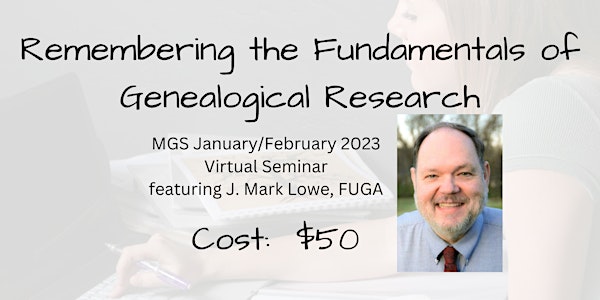 MGS January/February 2023 Virtual Seminar featuring J. Mark Lowe
Remembering the Fundamentals of Genealogical Research with J. Mark Lowe, FUGA and Mississippi Genealogical Society via virtual learning.
About this event
53 days 15 hours

Mobile eTicket
There are seven pre-recorded sessions by Mark which are all available to watch (and re-watch) on your timing. There will be live sessions, via Zoom, when Mark will go into more depth on the topics and answer questions (schedule below). All Zoom meetings will be recorded and available for all registered attendees.
Topics:
Using Maps and More to Determine Migration Paths and Connections to Cultural Identity
Adding Facts and Stories to My Family's Research (including trees)
Baptist, Methodist, and other Church Related Publications
Manuscripts with a Personal Touch
My Taxes Were Due When?
Finding Court Records for My Family
Basic Military Records Review
Schedule:
Friday, January 6th – an introductory video and all seven topic videos become available
Saturday, January 21st – live Zoom meeting, 1:30 p.m. Central Time; for those who want to meet together and watch, we will set up at the Brandon Public Library during our regular society meeting time.
Saturday, February 4th and Saturday, February 18th – live Zoom meetings, 11:00 a.m. Central Time
Other Q&A Zoom meetings to be scheduled
COST: $50 per attendee