[ MGO March ] Navigating the State Senate w/ Nancy Skinner
Description
GUEST SPEAKER: Senator Nancy Skinner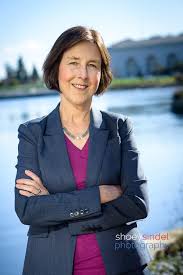 Elected in November of 2016, State Senator Nancy Skinner represents California's 9th Senate District, which includes the cities of Alameda, Albany, Berkeley, El Cerrito, Emeryville, El Sobrante, Hercules, Kensington, Oakland, Piedmont, Pinole, Richmond, Rodeo, San Leandro and San Pablo.
A social justice advocate, energy and climate change trailblazer, and accomplished legislator, Skinner completed three terms in the State Assembly. Skinner also teaches public policy at UC Berkeley, focusing on policy interventions to address poverty and income inequality and serves as a Senior Policy fellow at UC Davis's Energy and Transportation Institutes.
In the Assembly, Skinner served as Chair of three key committees: Budget, Rules and Natural Resources. As Budget Chair she oversaw the largest funding boost to childcare and preschool in over a decade; increased state support to our State University and UC systems, cut the number of juveniles incarcerated in state facilities by half, and established a new dedicated fund to reduce prison recidivism.
Skinner took on the Gun Lobby, successfully passing two groundbreaking gun violence prevention measures. To get corporations to pay their fair share, Skinner authored the bill that requires Amazon and other internet retailers to collect sales tax which is now bringing close to a $1 billion a year in new revenue to support vital services for California families. An environmental and climate protection champion, Skinner carried measures that doubled rooftop solar and renewable energy.
A graduate of UC Berkeley with a BS and an MA, Skinner co-founded the labor union representing graduate student instructors and was a leader in the UC South Africa Divestment movement.
Senator Skinner began her public service in 1984 as the first and only student to be elected to the Berkeley City Council. On Council Skinner introduced the nation's first Styrofoam ban and co-founded an international association of cities, ICLEI-Local Governments for Sustainability. After her term on the City Council, Skinner served as Executive Director of ICLEI's US office and International Director of ICLEI's Cities for Climate Protection program which engaged cities worldwide to take action to stop climate change.
Skinner is a past member of the East Bay Regional Park District Board, a former small business owner and an advocate to increase women in elected office. She served on the Board of the East Bay Women's Political Caucus and launched the statewide Women in Power Pac (WIP Pac) to support Democratic women.
Skinner and her husband, a retired city employee, are 40 year residents of Berkeley, her daughter Sirona and her wife, Sinead, live in Richmond. Three of Skinner's eight brothers and sisters also live in the East Bay along with many nieces and nephews.