About this Event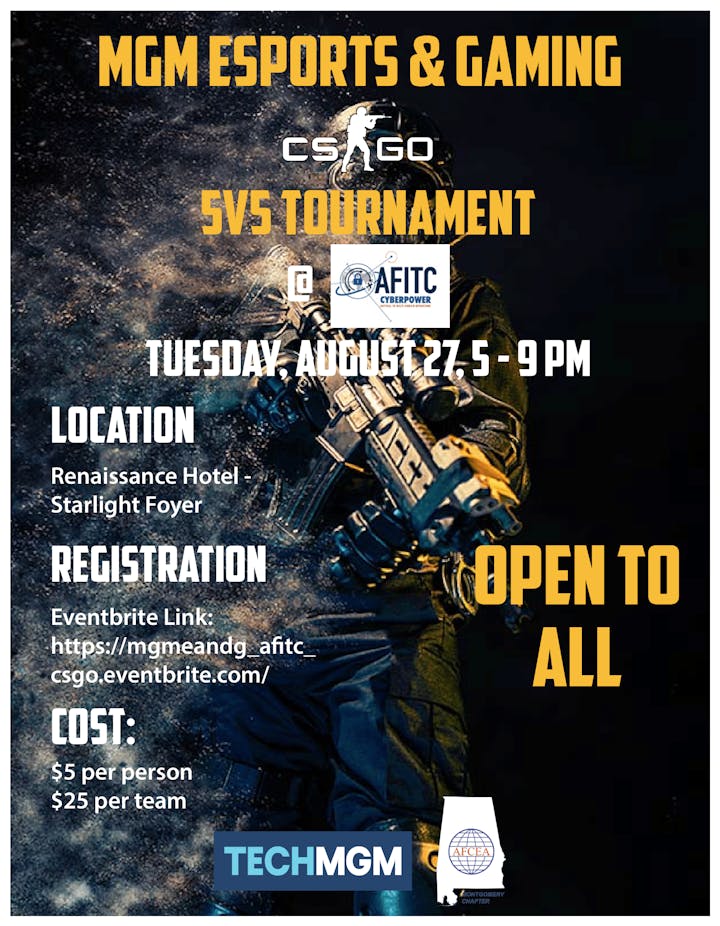 We welcome you to join us for a grueling and intense competitive eSports tournament featuring Valves' famous and long-standing FPS, CS:GO!
The location will be on the second floor of the Renaissance Hotel in the Starlight Foyer following the closing of the second day of the Air Force Information Technology and Cyberpower Conference. The platform of choice will be on PC. Players are not only encouraged but highly recommended to bring their own headsets! The convention can be loud and we want all our teams to be scoped in to their games!
Single and team registrations will both be taken. We will pool together any single registrants into a team of 5 and notify them ahead of time who their teammates will be and their team name, though it is recommended to register for the event as a team if possible. Registration per person will be $5 and $25 per team. If you and some friends want to play together but don't have enough for your own team, please put their names and emails in the details of your registration so we can keep you together on a team if possible!
Also a reminder; Counter Strike: Global Offensive is rated "M for Mature". If you are underaged and want to participate, you will need a signed and notarized waiver from a parent or guardian or have them present during the tournament.
This tournament is organized and provided by MGM eSports and Gaming, TechMGM, and The Montgomery AFCEA Chapter.