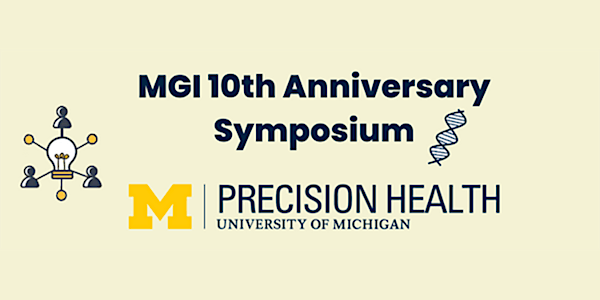 MGI 10th Anniversary Symposium
MGI 10th Anniversary Symposium
When and where
Location
48109 SPH I ,Room 1655 109 Observatory Street Ann Arbor, MI 48109 Ann Arbor, MI 48109
About this event
At this free, in-person event, present and future users of Michigan Genomics Initiative (MGI) data can meet fellow MGI researchers and learn about the breadth and scope of ongoing MGI-supported research. We will present an overview of the available data resources to support your research, teaching, or grant writing, and explain how to access and use these resources. We will discuss our near-term and long-term goals and hope to get your input to shape our priorities.
Professor Goncalo Abecasis, D.Phil., will deliver a keynote address, and six MGI researchers will discuss their experience and highlight projects that benefited from MGI data.
Lunch will be provided, to give present and future MGI researchers, students, and postdocs the opportunity to network. The one-day symposium will run from 11 am to 5 pm on Friday, September 30.
Attendance is free for registered participants.
Please RSVP By September 21.
AGENDA:
11:00 Opening Remarks
11:10-12:00 First Session (Chair: Xiang Zhou)
11:10-11:35 Amy Pasternak
11:35-12.00 Nicholas Douville
12.00-1. 00 Second Session (Chair: Mike Boehnke)
12.00-1.00 Goncalo Abecasis
1:00-1:45 Lunch
1:45-2:15 MGI Overview
2.45-2.30. Q&A
2:30-2:45 Coffee Break
2:45-4:00 Third Session (Chair: Lars Fritsche)
2:45-3:10 Elizabeth Speliotes
3:10-3:35 Daniel Hertz
3:35-4:00 Jean Morrison
4:00-5:00 MGI Tool Workshop
SPEAKERS:
Goncalo Abecasis, D.Phil., Felix E. Moore Collegiate Professor of Biostatistics
Amy Pasternak, PharmD, Clinical Assistant Professor of Pharmacy and Clinical Pharmacist
Nicholas Douville, MD, PhD, Assistant Professor of Anesthesiology
Elizabeth Speliotes, MD, PhD, MPH, Keith S Henley M.D. Collegiate Professor of Gastroenterology, Professor of Computational Medicine and Bioinformatics
Daniel Hertz, PharmD, PhD, Assistant Professor of Pharmacy