Description
The Massachusetts Grower Advocacy Council (MGAC) is holding a round table on cannabis grower cooperatives in order to gather information and feedback on what a craft cooperative grow should look like.
At this event MGAC with your help will be utilizing your suggestions to develop draft regulations and a policy paper that will be submitted to the Cannabis Control Commission in early November on the best way to implement and encourage growth in this important aspect of the new cannabis industry. Learn about different ideas, bring your own, and help develop the regulations around co-op grows in the Commmonwealth with us.
Guest Speakers being announced soon!
Your feedback and support are critical in helping us bring your message to the Commission, and to help ensure it is the best that it can be. We want you to succeed. Be there and take part!
Refreshments will be served. This is a non-consumption event which means no cannabis can be consumed during this event.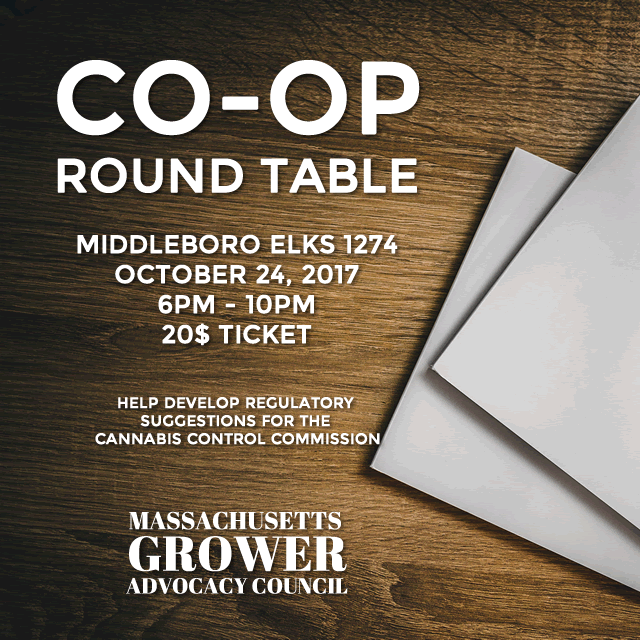 About Massachusetts Grower Advocacy Council
We work with cultivators, public officials, and the cannabis industry to advocate for standards that encourage innovation and grower advancement. https://massgrower.org/

Instagram / Twitter / Facebook Tips
One of the best ways to share our events is to use common hashtags when tweeting, facebooking, or instagramming about the event. Don't forget to take photos and share them with everyone using the hashtags below. #massgrowers #massgrower #growyourown #mgacparty #cooproundtable
Who should come to the party?
We welcome anyone who loves cannabis to attend including newbies and experienced users alike. If you're a grower and considering starting your own growing cooperative this event will be particularly helpful because we will be developing regulatory suggestions for that type of business.
Should I bring business cards?
Please do! Bring your business card or a way for individuals who attend to get back in touch with you so the connections last.
Can I sponsor the event?
Absolutely! We are always welcome to have sponsors for food and other refreshments. Please email peter@massgrower.org for more details and to let us know what you can sponsor.
Legal Disclaimer
Views or opinions expressed by speakers or sponsors at our local Massachusetts Grower Advocacy Council community events do not necessarily express the opinion or views of the Massachusetts Grower Advocacy Council organization and we do not take responsibility for the views expressed or the actions of speakers or sponsors at our local events. The Massachusetts Grower Advocacy Council does not distribute cannabis.