Description
The Museums Galleries Australia Indigenous Roadmap project is an initiative to facilitate discussion on how best to advance the participation and representation of Aboriginal and Torres Strait Islander people in museums and galleries.
Please join Terri Janke and Company for an open discussion to have your say and help create an enhanced pathway for Indigenous representation and participation in Museums and Galleries across Australia.
A closer relationship between Indigenous peoples and the museums and galleries sector will result in a more accurate, truthful and complete understanding of Australian history.
The project aims to develop the Museums Galleries Australia Indigenous 10-Year Roadmap. This document will map out a plan for Indigenous engagement and employment over the next 10 years.
The project will be completed by Terri Janke and Company for Museums Galleries Australia.
Outline of the Day
We will be hearing from speaker Margo Neale. Margo is a Senior Research Fellow, Senior Curator and Principal Indigenous Advisor to the Director at the National Museum of Australia.
Margo is also an Adjunct Professor in the history program at the Australian National University's Australian Centre for Indigenous History. In this role Margo sits on post-graduate supervisory panels, gives seminars and participates in workshops, and engages in documentaries and study tours for international visiting academics.
Margo is regularly called upon by the electronic and print media as an expert commentator on Indigenous art, culture and history, particularly in relation to her experience as a curator of major exhibitions across museums and galleries.
After the speaking session, we will have a session for open discussion.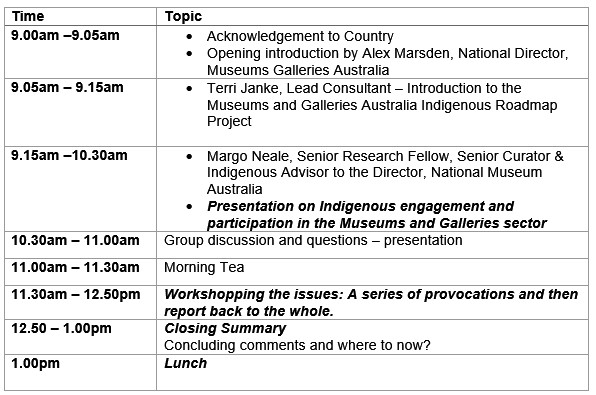 For more information on the project, please see https://www.mgaindigenousroadmap.com.au/