Description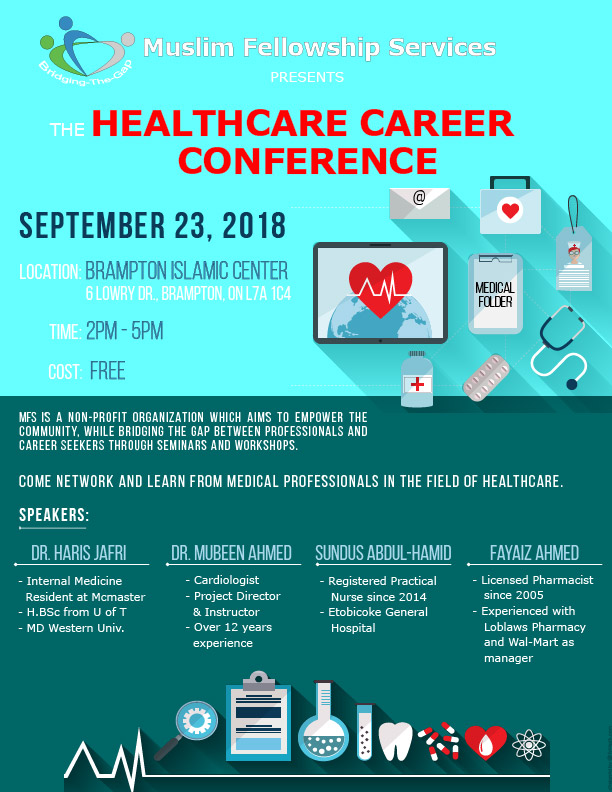 Are you interested in a career within the medical field? Do you have questions? Are you looking for options? Want to know what it takes to be successful in this field? Want to know more?
Come to the MFS Healthcare Career Conference to network and learn from professionals in the field of Healthcare. Hear directly from the professionals about what their careers are like and what it takes to accomplish your goals in this field.
So mark your calendar for Sunday, September 23rd, 2018 - from 2pm to 5pm, at the Brampton Islamic Center!
The event will take place shortly after the afternoon Zhur prayer. (For more information about the Brampton Islamic Center please visit www.bsia.ca )
Free parking is available and there is no admission charge, However, spaces are limited so please register below.
---
FAQs
Are there minimum age requirements to enter the event?
No. This event is open to anyone who wants to know more about a career in the medical field.
Is this event only for Muslims?
No. This event is open to everyone, of all faiths and genders, and all are more than welcome!
What are transportation/parking options at the event?
Free parking is available at the Center as well as street parking in the srrounding area. However, spaces are limited so please try to come early before the afternoon Zhur prayer. Please verify street signs before parking your vehicle.
How can I contact the organizer with any questions?
Please email your questions to mfsforummah@gmail.com and we will be happy to provide you with any information.
Is there any food?
Of course! Delightful refreshments will be served.
---
Muslim Fellowship Services ©2018
MFS Healthcare Career Conference is a private event protected by copyright laws. Any copying of names, logos and event material is prohibited. Only registered job or career representatives, vendors, merchants or exhibitors, may participate at these events. Any solicitation at the event without prior permission is strictly prohibited.