Description
In honor of our exhibition, Femmetography: The Gaze Shifted, join us for an evening with three emerging contemporary photographers Eva Woolridge, Nadiya Nacorda and Nailah Fumilayo Davis who will share work and engage in a discussion about their inspiration and creative practices.
This event is presented in collaboration with MFON, an independently published anthology edited by Laylah Amatullah Barrayn and Adama Delphine Fawundu.
Please contact us immediately for American Sign Language (ASL) interpretation. Requests can be made by calling 212-340-0951 or 212-340-0909, or e-mail accessibility@nypl.org..
Background:
In our exhibition, Femmetography: The Gaze Shifted, the 2018-19 students in our Teen Curators program examine the Black feminine gaze using the first book documenting Black women photographers as a guide, Jeanne Moutoussamy-Ashe's 1985 opus, Viewfinders: Black Women Photographers. Moutoussamy-Ashe unravels the histories of these pioneering photographers and creates a space for their narratives to be discovered. As a new generation engages with this work, they wonder: what does the Black feminine gaze mean today?
This fourth annual Teen Curators exhibition features portraiture, experimental photography, and archival materials. The Teen Curators program, where arts education leads to increased historical and cultural literacy for high school participants, culminates each season of aesthetic engagements and curatorial projects with an exhibition. Students work closely with curators and librarians from all of the Schomburg Center's research divisions – Art and Artifacts; Manuscripts Archives and Rare Books; Moving Image and Recorded Sound; Photographs and Prints; the Jean Blackwell Hutson Research and Reference.
This exhibition will remain open through spring 2020 in the American Negro Theatre of the Schomburg Center for Research in Black Culture. The Schomburg Teen Curators program is generously funded for five years by the Pierre & Tana Matisse Foundation.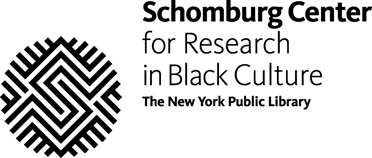 FIRST COME, FIRST SEATED
Events are free and open to all, but due to space constraints registration is requested. We generally overbook to ensure a full house. Registered guests are given priority check-in 15 to 30 minutes before start time. After the event starts all registered seats are released regardless of registration, so we recommend that you arrive early.
GUESTS
Please note that holding seats in the Langston Hughes Auditorium is strictly prohibited and there is no food or drinks allowed anywhere in the Schomburg Center.
AUDIO/VIDEO RECORDING
Programs are photographed and recorded by the Schomburg Center. Attending this event indicates your consent to being filmed/photographed and your consent to the use of your recorded image for any all purposes of the New York Public Library.
PRESS
Please send all press inquiries (photo, video, interviews, audio-recording, etc) at least 24-hours before the day of the program to Amy Geduldig at amygeduldig@nypl.org.
Please note that professional photography and video recordings are prohibited without expressed consent.