Description
Charlotte Diamond Concert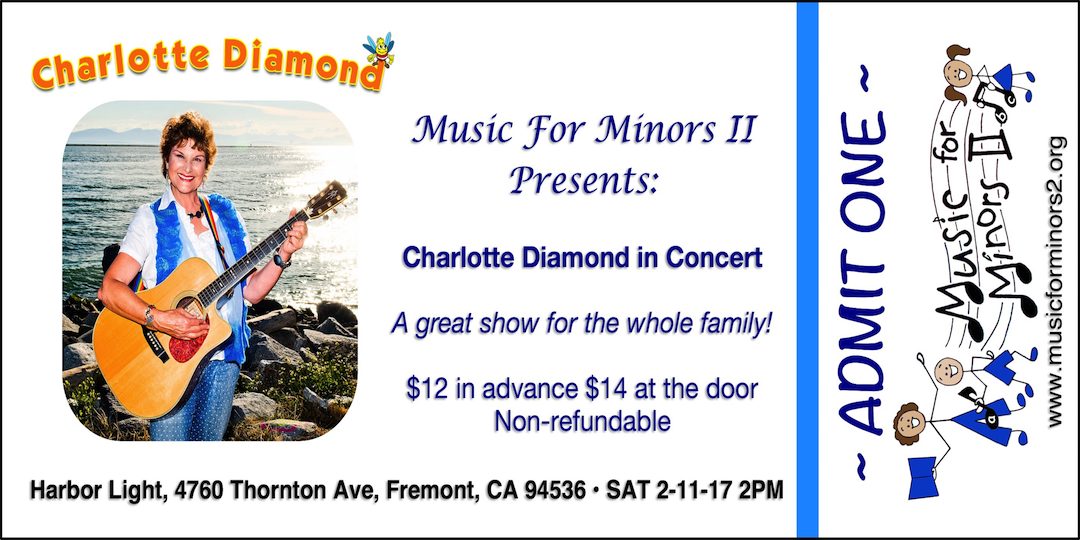 Music For Minors II Presents award-winning children's singer Charlotte Diamond in concert!
Following the concert, there will be optional autographs and photo opportunities with Charlotte Diamond.
Join MFMII and Charlotte Diamond for an afternoon of upbeat musical fun, with songs from her new album "Diamonds By The Sea" as well as old favorites, such as "Octopus" (Slippery Fish), " I Am A Pizza" and many more!

The Charlotte Diamond Concert is recommended for ages 3 and up. Every child age 3+ needs their own ticket. Children under 3 are free provided they sit on a parent's lap. If your child requires a seat, please buy a ticket. If your child is under 3, please sit in an aisle seat near the back, in case your child becomes restless, frightened or very loud for any reason and you need to take them to the lobby.
Thank you for helping us to achieve a great live concert experience for everyone!
Proceeds benefit Music For Minors II, a 501(c)(3) non-profit organization, "Nurturing the love and literacy of music in children's classrooms and lives since 1988." www.musicforminors2.org

---
Mail Order Option:
Tickets can also be purchased through mail order with will-call pick up the day of the event. If you would like to mail in a check, make your check payable to:
Music For Minors II
P.O Box 2661
Fremont, CA 94536.
Add memo line: Charlotte Diamond.
***Please also send a note along with your check that includes your first and last name, phone number and an email address, so that we can confirm your check has been received and tickets allocated. Tickets paid for through the mail will be available the day of the event at will-call. Please do not send cash.
Questions, email us at: info@musicforminors2.org
Thank you!