MFA Visual Narrative Information Session 1/25/14

Saturday, January 25, 2014 from 3:00 PM to 5:00 PM (EST)
Event Details
Story: Visualized  |  MFA Visual Narrative Info Session 
136 West 21st Street | 4th Floor | Room 418F
January 25th, 2014 from 3-5pm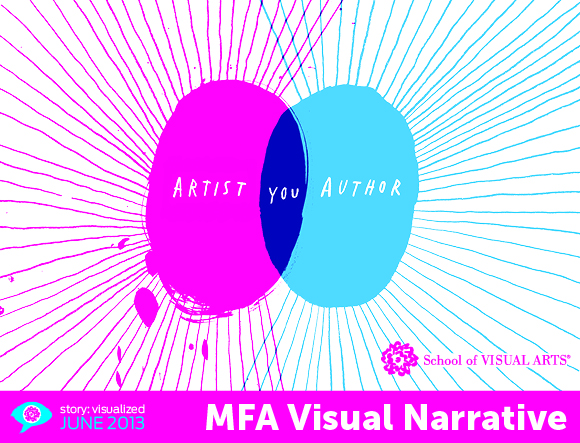 The MFA in Visual Narrative program at SVA is a groundbreaking approach to visual storytelling. Comprised of three eight-week summer sessions in NYC and two academic years online, this low-residency program places equal emphasis on creative writing and figurative visual expression. The program is designed for both working professionals and recent graduates from all creative disciplines who are dedicated to the art and craft of visual storytelling as both artist and author.
Come join Nathan Fox, Chair of MFA Visual Narrative, for this informative and interactive presentation. Potential students will learn about the MFAVN curriculum and our philosophy and approach to visual storytelling, meet faculty members and students, and discover all that the evolutionary low-residency program has to offer. A question-and-answer session will follow the presentation with faculty and students available after the event for individual discussions.
The information session is open to the general public free of charge. Seating is given on a first-come, first-served basis. The presentation will begin promptly at 3:00PM.
The MFA Visual Narrative program is chaired by editorial illustrator and comic book artist Nathan Fox. His work has appeared in The New York Times, EW, Rolling Stone, Image, Vertigo, and Marvel Comics, and within projects for MTV, Burton, Nike, 1800, AOL and many more.
Faculty include such diverse professional storytellers as art director and illustrator Jennifer Daniel, writer and information designer Alicia DeSantis, writer and illustrator Edward Hemingway, co-founder, Man of Action Studios Joe Kelly, artist and printmaker Ross MacDonald, historian and critic Leonard Marcus,  writer and publisher Benjamin Marra designer and artist Jeff Rogers, artist Jonathon Rosen, illustrator Matt Rota, designer and comic book author Jim Rugg, author Mark Sable and writer/game producer Ben Zackheim.
Admission for the entering class of June 2014 is rolling, so early application is encouraged. We will continue to review applicants until 20 students have been accepted. For more information and to apply, please see the links below:
School of Visual Arts Graduate Program: 

MFAVN.SVA.EDU

MFAVN Department Site: 

MFA Visual Narrative

Apply Now!
Applications are open now and we have updated the FAQ and the Application Guides on our site.
Contact mfavisualnarrative@sva.edu for further details- we would love to hear from you.

---Nathan Fox, Chair

When & Where

School of Visual Arts | MFA Visual Narrative Department
136 West 21st Street
#418F
New York, NY 10011


Saturday, January 25, 2014 from 3:00 PM to 5:00 PM (EST)
Add to my calendar
Organizer
MFA Visual Narrative
An evolutionary low-residency graduate program in visual storytelling through the education of the "Artist as Author".
School of Visual Arts
MFA Visual Narrative Information Session 1/25/14