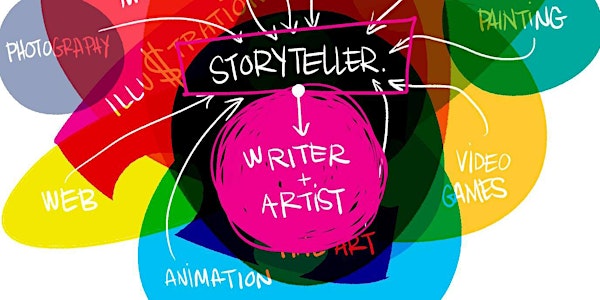 MFA Visual Narrative - Application Q&As with the Chair
When and where
Location
Online via Google Hangout
Description
Hello Storyteller,
We appreciate your interest in MFA Visual Narrative, where artist meets author, story first. Applications are open now to start this June. First round reviews are underway, and scholarship funds are beginning to be assigned. Our second round application review will take place late February/early March.
Rolling admissions will continue as space allows. We invite you to jump on line anytime during these open Google Hangouts to ask about your application materials and processes, as well as any questions about the program. Before your session, we recommend that you visit our site and watch this recorded information session, which may answer some of your questions. Nathan and several students and alums are featured. Three quick notes:
1. We welcome students from all backgrounds- your bachelor's degree or equivalent can be in any subject.
2. Students will be given free SVA housing this summer if they reside outside NYC.
3. Students can advance their skill sets by auditing up to four additional classes at SVA tuition-free.If you do not have Google Hangout installed, I will send out instructions, it is quite easy. And if none of these times work for you, drop a line to mfavn@sva.edu and we will set up a call or visit just for you. All the best and standing by....Joan McCabe, Director of Operations, MFAVN mfavn@sva.edu
More about us here:
SVA offers a low-residency MFA program in visual narrative with two years online and three summers in NYC, a visionary approach to storytelling that equally emphasizes creative writing and visual communication across all media. Applications to enter in Summer 2018 are open with rolling admissions.
Develop an understanding of what Story is and how it functions most effectively when visual and written media merge, by sharpening your writing skills and integrating them into your creative process and professional practice
Create original works as both author and artist within a supportive and transformative creative community, with visiting artists and mentoring by a top professional in your field
Connect and collaborate with a professional network in NYC and beyond
Prepare to compete in creative industries such as advertising, video, gaming, film, animation, sequential arts, illustration, design and more
Benefit from scholarships, housing grants and our rolling admissions policy. And we welcome undergraduate degrees from any area of study, including sciences, humanities, arts or business.
CHAIR STATEMENT
When words and images come together, they can create powerful visual narratives — stories that can touch hearts, change minds and even change the way we see our world - story first.
The Visual Narrative MFA at SVA responds to the needs of today's evolving creative markets by merging the artist and author. It's an evolutionary process that puts story first and gives you the tools you need to craft your own stories and to help others craft theirs.
More than just a degree program, the MFA Visual Narrative program is a school of thought that immerses you in story. A select group of artist/authors, we are a diverse, tight-knit community where you learn in small classes and are mentored by top professionals who know how to navigate today's competitive creative markets.
Part of the extraordinary appeal of the program is that it is low-residency. Three intensive eight-week summer semesters at SVA in New York City give you the chance to connect with your peers and professors, to create in-studio and to absorb the Visual Narrative process. Additionally, you are able to access the myriad of creative opportunities in the city and to build a community of colleagues and mentors that supports and inspires. Four semesters of on-line coursework, critiques, discussions and interactive projects give you the freedom to pursue your passion and live your life — without uprooting it.
In today's workplace, storytelling is increasing demand. At MFA Visual Narrative, you'll develop a fluency in what we call "Visual Writing." We think of it as a whole new language that can take your creativity to the next level and give you the competitive edge in today's creative economy. If you're ready to dig deep, uncover universal truths and live and breathe story, come join us. The world needs compelling stories.
What's yours?
Nathan Fox, Chair, MFAVN