Description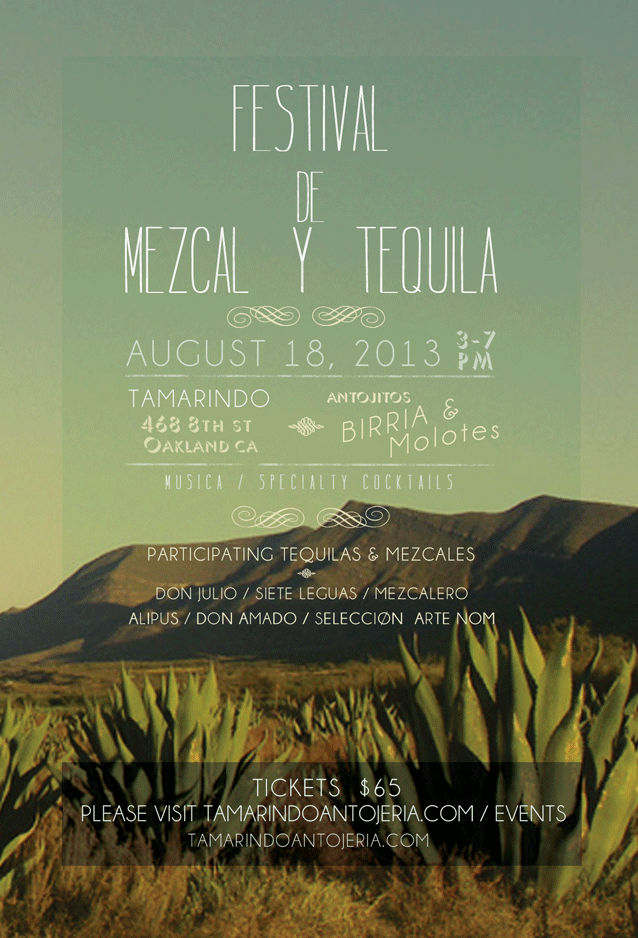 Oakland, Ca August 18, 2013- Tamarindo is proud to launch its 1st annual Mezcal & Tequila festival, celebrating the amazing spirits of Mexico. The afternoon will feature demonstrations and samplings from master distillers, industry experts, mixologists, and ambassadors from world-renowned and new-to-market brands. The festival will dedicate one section of the restaurant to Mezcal, and the other to Tequila. Guests will learn about the history and culture of each spirit from invited industry experts like Jake Lustig, the owner of the Don Amado Mezcal label. Participating Tequila and Mezcal brands include: Alipus, Don Amado, Mezcalero, Don Julio, Siete Leguas, Don Pilar, and Seleccion Arte NOM . These companies will provide tastings, and will showcase their brand in specialty cocktails. The festival will finish off with live music from a mariachi band.
Gloria Dominguez, chef and owner of Tamarindo, also a proud native of Jalisco, will be serving regional dishes from Jalisco and Oaxaca, the two States where Tequila and Mezcal are most commonly produced.
The festival will take place at Tamarindo, located at 468 8th Street Oakland, Ca on Sunday, August 18, 2013 from 3-7pm. Ticket price is $65, which includes admission, food, and drinks.