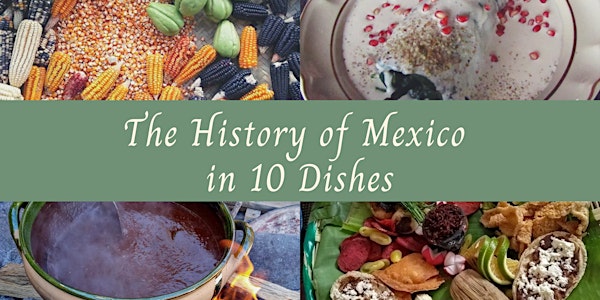 Mexico's History in 10 Dishes
Love Mexican food? Discover the events that made it what it is today.
Refund Policy
Contact the organizer to request a refund.
About this event
We'll time travel through Mexico's history looking at several key moments in the country's past and a special dish associated with each of them.
There's a good reason Mexican cuisine is recognized by UNESCO as part of the Intangible Heritage of Humanity. It's based on centuries of tradition and — thanks to Mexico's status as a mega-diverse country — has a huge variety of ingredients to draw upon. Besides having its base in the varied traditions of a multitude of indigenous groups, there have been different waves of immigration over time that have also added their flavors to the mix.
Join us for a look at how these many influences have shaped one of the world's most popular cuisines in our latest virtual experience.
This unique experience is designed to take you on an entertaining virtual gastronomic journey through Mexico's culinary heritage to discover the historical events that helped shape the country and its food traditions. Starting from very early times we'll look at the domestication of several important crops in Mesoamerica and what dish is still made today that was one of the main foods consumed by the early inhabitants of Mexioo. We'll look at the colonial period and how the diet in Mexico changed with the introduction of new ingredients and techniques. Over time, Mexico's cuisine has evolved with influences from various locations around the world.
Find out:
What special ingredient the Aztecs added to their pozole to make it extra special
How a president's preference for European flavors changed the way Mexicans eat breakfast
What group of immigrants are responsible for Mexico's most popular tacos
And more!
Details:
LIVE ONLINE TOUR - Small group, interactive experience
We're limiting the number of spots to keep the groups small so there will be time for interaction and questions.
This virtual tour will be conducted via Zoom. You'll need a device with Zoom installed, and an internet connection with the bandwidth to stream audio and video in order to participate. A link and details on how to join will be included in your booking confirmation email.
Your Host
Suzanne Barbezat has lived in Oaxaca for over 20 years. She holds a degree in Anthropology from McGill University, she's a tour guide with Discover Oaxaca Tours and is the author of Frida Kahlo at Home.