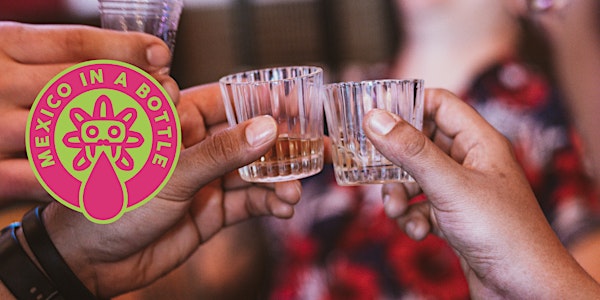 Mexico in a Bottle San Diego
And we're back! Mexico in a Bottle returns to San Diego for an afternoon of mezcal, Mexican craft spirits, food, art, music and more!
When and where
Location
Bread & Salt Gallery 1955 Julian Avenue San Diego, CA 92113
Refund Policy
Contact the organizer to request a refund.
Eventbrite's fee is nonrefundable.
About this event
Join us Sunday, October 2nd at Bread & Salt Gallery for an afternoon celebrating the great spirits of Mexico! Enjoy sipping agave spirits and learning producer stories, processes and more. There are also selections of Mexican whisky, rum, gin, liqueurs, beers and more. Restaurants will be serving up delicious bites paired with cocktail sips as art and music surround you.
The story of mezcal and these other elixirs is about more than alcohol. Each bottle contains a piece and flavor of Mexican culture, and is a living link to history, tradition, food, art, and music – life and death all in a bottle. This is what we celebrate at Mexico in a Bottle!
See Covid information below**.
Participating brands include:
Del Maguey
Wahaka
Bruja de Agua
Sacro Imperio
Amarás
Santo Pecado
The Lost Explorer
Lamata
CUISH
Maestros del Mezcal
Mal Bien
Lalocura
El Rey Zapoteco
Abasolo Whisky
Las Californias
Mezcal de Leyendas
Fabriquero Sotol
Peloton de la Muerte
Las Californias
Casa Santeros
Santo Cuviso
Banhez
Mezcal Vago
Convite
La Luna Mezcal
Ilegal Mezcal
Cuentacuentos
Alipús
Los Nahauales
Comunidad
Dakabend Rum
Los Nahuales
Mezcalero
Mezcal Animas
Hacienda Oponguio
Las Perlas
Almamezcalera/P'al Alma
Erstwhile Mezcal
Bruxo
Tequila Ocho
Bozal
Burrito Fiestero
Mezcal MG
Señor Sotol
Mezcal Union
Mal de Amor
South Norte Brewery
Siete Misterios
Mezcal Nacional
Siglo Cero Pox
Agua del Sol
Dos Pasiones
Morro Mezcal
Izo Mezcal
Acre
Dos Boots
Scorpion
Sierra Norte Whiskey
Mezcal Grulani
Mezcal Lopez Real
Casta Tribal
Special Programs:
Art & Vida with Del Maguey
Mexican Pop Up Cantina with Ilegal Mezcal
Agave Spirits Institute
Retail partnership with Old Town Tequila
Participating Restaurants:
Tahona
Metl Creamery
Camino Rivero
The Taco Machine
A big thanks to our non profit partner Logan Avenue Consortium!
**We highly encourage all attendees to be fully vaccinated. Any local mask mandates will apply at the event.