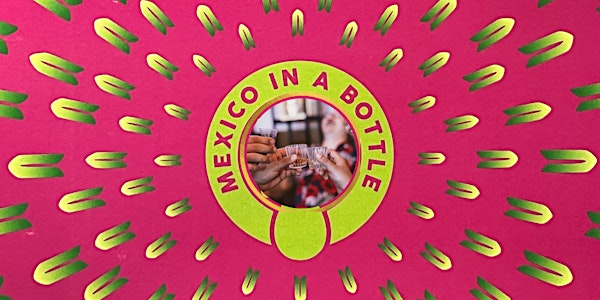 Mexico in a Bottle Chicago
Mexico in a Bottle returns to Chicago for an afternoon of mezcal, Mexican craft spirits, food, art, music and more!
Date and time
Sunday, April 23 · 4 - 7pm CDT
Location
Bridgeport Art Center 1200 W 35th St Chicago, IL 60609
Refund Policy
Contact the organizer to request a refund.
Eventbrite's fee is nonrefundable.
About this event
Join us as we mark six years of Mexico in a Bottle in Chicago at our new location - Bridgeport Art Center!
What began as an event to celebrate the story of mezcal has evolved into a full scale celebration of the incredible flavors and craft driving the Mexican spirits industry. No longer just an agave driven movement, Mexican rum, whiskey, gin, liqueur, bitters, wine and beer are now making taking their place among the finest expressions in the market. What makes these elixirs so special goes beyond alcohol, each bottle contains a piece and flavor of Mexican culture, and is a living link to history, tradition, food, art, and music – life and death all in a bottle.
Join us Sunday, April 23rd for an afternoon celebrating the great Spirits of Mexico!
Participating brands include:
Del Maguey
Wahaka
Bruja de Agua Gin
El Jolgorio
Nuestra Soledad
Estancia Raicilla
Banhez
Almamezcalera
La Luna Mezcal
Gustoso Aguardiente
Gran Dovejo
Ilegal Mezcal
Amaras
Erstwhile
Aqara Agave de los Andes
Legendario Domingo
Erstwhile Mezcal
Xila Licor de Agave 7 Notas
Metiche
Mezcal de Leyendas
Peloton de la Muerte
Real Lopez
La Remilgosa
Rayo Seco
Bozal
Siete Misterios
Mezcal Union
Madre Mezcal
Cruz de Fuego
Flor del Desierto
Alipus
Los Nahuales
Tso'ok
Las Perlas
La Comunidad
Dakabend
Cuentacuentos
Mezcalero
Mal Bien
Lalocura
El Tigre
De Matachines
Convite
Abasolo Mexican Whisky
Nixta Licor
Ojo de Tigre
Nocheluna
El Tesoro
Fidencio
Derrumbes
La Higuera Sotol
La Venenosa
Mal de Amor
Bacanora Batuq
Bacanora Mazot
Mezcal Lokita
Siete Misterios
Xicala
Maracame
3 Pueblos
Pluma Negra
Guerra Seca Sotol
Cuish
Lamata
Maestros del Mezcal
Mezcal Vago
Tequila Ocho
Cinco Sentidos
Canada Distillery Oaxacan Rum
Prolijo Mezcal
Salvadores
Mezcal Meztlan
Amatitena Tequila
Cruz Blanca Brewery
Mezcal Meztlan
Pierde Almas
Los Vecinos del Campo
Mezcal Grulani
Don Amado
Hacienda Oponguio
Puntamanguera
Participating Restaurants and Bars include:
Carnitas Uruapan
La Josie
Bar Sotano
Osito's Tap
Mi Tocaya
Dove's Luncheonette
Estrella Negra
Estereo
Programming:
Art & Vida: We are very excited to be working with Chicago artist Teresa Magana who will be unveiling a commissioned piece of art at the event. Art & Vida is a collaborative project between Del Maguey and Mezcalistas.
Ilegal Pop Up Repo Bar: A special bar program that will feature aged Mexican craft spirits including mezcal, rum and whisky.
Tiendita:
Moreno's (order bottles online at the event)
Pilsen Community Art House
Casa Humilde Cerviceria and Coffee Roasters
El Molcajete Sauces
About the organizer
Founded by Susan Coss and Max Garrone in 2012, Mezcalistas is a media, event, and consulting company, dedicated to raising awareness about mezcal in the United States. Through our blog and tasting events we share the world of mezcal to a mixed audience of industry and consumer. Since its founding, Mezcalistas has become the trusted source of information for all things mezcal.