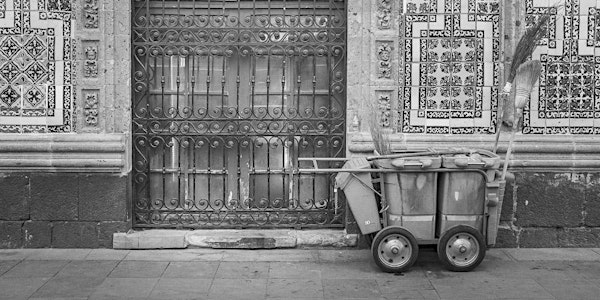 Mexico City Experience 2022
5 DAY PHOTO WORKSHOP Experience one of the worlds most beautiful city, Mexico City!
When and where
Location
Mexico City RIO SENA NO. 69 Mexico City, MEX 06500 Mexico
About this event
5 DAY PHOTO WORKSHOP
SOLD OUT!
Experience one of the worlds most beautiful city, Mexico City, with accomplished Mexican street photographer David Coleman. David is an expert with the Mexican people, customs, language, and world renouned Mexico City culinary cuisine.​
Rising from the ruins of the Aztec capital, Tenochtitlan, Mexico City offers a unique collision of contemporary city life and historic preservation. World-class museums, restaurants and parks rub shoulders with the remains of several cultures. The nightlife, the shopping and the history make it a must-see regardless of your photography style.​
David is an expert photography instructor and visual storyteller who provides a safe and fulfilling photography workshop experience, planning the best sites and times of day for shooting, local fare, and comfortable accommodations in advance. The workshop also includes visual storytelling instruction and image review sessions.
​"I joined David's Mexico City experience workshop and had a wonderful time.  I was a beginner and also worried about safety in Mexico City.  However, all these have proven to be un-necessary.  Because it was a small group, David attended to my beginner questions individually.  Also, I felt so safe with the group.  There was no better way to learn photography and enjoy Mexican culture and food (yes, we ate so much yummy Mexican food; the variety was amazing) other than joining David's workshop!!!."- Ying Yi Hong, Palo Alto, CA
​"Mexico City is a world-class destination for museums, architecture, food, and street photography. David's planning enabled us to take advantage of all that. The weather couldn't have been better and the Mexican people couldn't have been more polite and friendly. I came back with many successful photos of different types of subjects, including cityscapes, architecture, street portraiture, and street photography." - Eric Ahrendt, Orinda, CA​
"The venues we went to were carefully chosen to expose us to different types of photography (architecture, street photography, etc) and David was always helpful to provide suggestions to photograph in different conditions. […] As a teacher, he's very patient with students and I thought he did a good job balancing the needs of beginners to advanced photographers. Did I say he's from Mexico City? I thought it was wonderful to have a local to be your photography guide. […] I know I'll be back for more!" - Yesim Tabanoglu, Redwood City, CA​
INCLUDED:
Private accommodations, classroom instruction, private coaching, local transportation, tours, leaders and local guides, all permits, entrance fees and taxes.​
Note on limited spaces: Workshops are limited to 7 participants. Small groups allow David to provide one-on-one photography coaching in the field.
A workshop participant may bring an additional guest for an add-on fee of $300. The guest receives all the benefits as a workshop participant except for photography instruction.
PRICING: $3,900
RETAINER: $400 (Non-Refundable / Non-Transferable)
Workshop balance: The balance of $3,500 is due and payable by January 1st, 2022 8am. If canceled after January 1st, 2022, 8am full cost will be retained. Please contact us with payment options.
 Activity level: Medium-Light. Activities may include some long walks and on uneven streets.
david@davidcolemanphotography.com