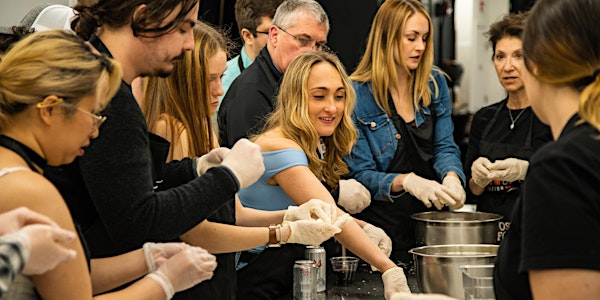 Multiple dates
Mexican Fiesta (3-hour Culinary Experience)
Make fresh, homemade Tortillas to accompany classic Mexican dishes!
Date and time
July 10, 2022 · 5pm - September 2 · 9pm EDT
Location
Selfup Venue 19 Kingston St, #1 Boston, MA 02111
Refund Policy
Contact the organizer to request a refund.
Eventbrite's fee is nonrefundable.
About this event
If you're not planning on making a trip down to Mexico any time soon but are craving the savory flavors of traditional Mexican dishes, don't sleep on our group cooking classes focused on tried and authentic Mexican cuisine. Our private chef will take you on a journey through time to learn about the origin of certain spices and dishes native to Mexico, which you will then prepare as a group in the kitchen and enjoy altogether over plenty of laughs with great company.
Our culinary expert will share his knowledge and exceptional culinary skills and teach you all you need to know and then some regarding traditional Mexican ingredients, utensils, complementary flavors, and dish arrangement.
The unforgettably tasty dishes you will prepare during class include Corn and flour tortillas, Chicken Enchiladas, Chicken Mole, Fish Tacos, Pork Tamales, and churros with the perfect crunch. This assortment of menu items is curated to help you experience the abundance of flavors and textures that Mexican food offers.
A bit about the dishes you'll be making:
- Corn and Flour Tortillas: simple ingredients of flour and masa harina–dried corn dough–and a dash of salt. Combine with water and shape dough into flat pancakes of perfection.
- Chicken Enchiladas: made with a homemade enchilada sauce, fresh tortillas, and stuffed with chicken and cheese, garnished with fresh herbs. They are layered with a gooey melted cheese that makes for a flavor bomb in your mouth.
- Chicken Mole–a traditional, celebrated Mexican entree with a touch of sweetness–will send your tastebuds to the clouds– is served with rice and beans. Mole is a slightly rich sauce comprised of cloves, cinnamon, anise, coriander, dried chilies, and chocolate.
- Fish Tacos: jam-packed with fresh, delicately seasoned fish, some light cabbage, cilantro, and pico de Gallo tucked neatly within fresh tortillas and spritz with a bit of lime juice.
- Pork Tamales: create tender shreds of pork tucked inside corn husk tamales blended with masa dough tamales simmered in green or red chili sauces, which adds extra juiciness. You'll steam tamales and serve them with a rich sauce and herb garnish.
- Churros: to top it all off, you'll end on a sweet note with crispy dough homemade churros that are lightly dusted with granulated sugar for the ideal dessert to close out a wonderful Mexican feast.
Celebrating comes in many shapes and forms. One killer way to celebrate something–whether it be a milestone at your company, a worker appreciation outing, a high school reunion, an anniversary, a birthday, or just to be alive–is through our interactive cooking classes. At Selfup, we strive to offer a space where people can be themselves, learn to build stronger connections, and foster leadership skills.
Beginners, novices, and porches alike, we encourage you to try one of our private group cooking classes today! What better way to learn a new recipe?
About the organizer
Hands-on cooking classes and team building activities by renowned Boston and New-York chefs. Vibrant locations in downton Boston and Manh`ttan hosting large groups for public classes and team outings. Dedicated event planner.