Description
Mexicanos en Miami te invita a que asistas a la noche de Arte Mexicana en Mex / Art el jueves 7 de diciembre desde las 7:00pm. Entre los artistas mexicanos representados con sus obras destacan Neón Carón, Jesús Lima, Jorge Marín, Esteban Fuentes y Colectivo Madera de Lobo. Contando también como artista invitado el brasileño Romero Britto, quien con su esencia y arte distintiva se une a todo el colorido de la plástica mexicana.
Una muestra de arte contemporáneo de 11 artistas mexicanos que no deberás perderte. Se tendrá la presencia de artistas, pintores y medios, resaltando la participación de "Luster Magazine" revista dedicada al lujo austero latinoamericano.
Durante el evento, se realizará el lanzamiento de una selección única de relojes Aquatimer IWC inspirados en el archipiélago caribeño de los Roques. Sumérgete en la exploración del arte y elegancia en el océano.
Mex/Art también contará con un área al aire libre "The Green Garden" en el que se podrá saborear de exquisita comida mexicana de La Santa Taquería , disfrutar del buen ambiente, música con DJ y cócteles al gusto. Mientras que a un costado de la exposición, en el espacio creativo Pop-Up Store, podrán conocer de las más recientes propuestas de diseñadores de moda locales. Sin duda una gran noche para disfrutar del arte mexicano en el barrio de vanguardia artística de Wynwood.
Regístrate para estar en la lista de invitados de Mexicanos en Miami y tener acceso sin costo. https://mexart.eventbrite.com
LUGAR 119 Northwest 29th Street Miami FL 33127
FECHA Jueves 7 de diciembre
HORA Desde las 7:00pm
RSVP Acceso bajo lista https://mexart.eventbrite.com
ACERCA DE MEX/ART
Mex/Art es un proyecto cultural y social de Be Art Gallery, una galería de arte en línea dirigida por la mexicana Brenda Aguera que difunde los trabajos de artistas de todas procedencias, estilos y sexo. http://be-artgallery.com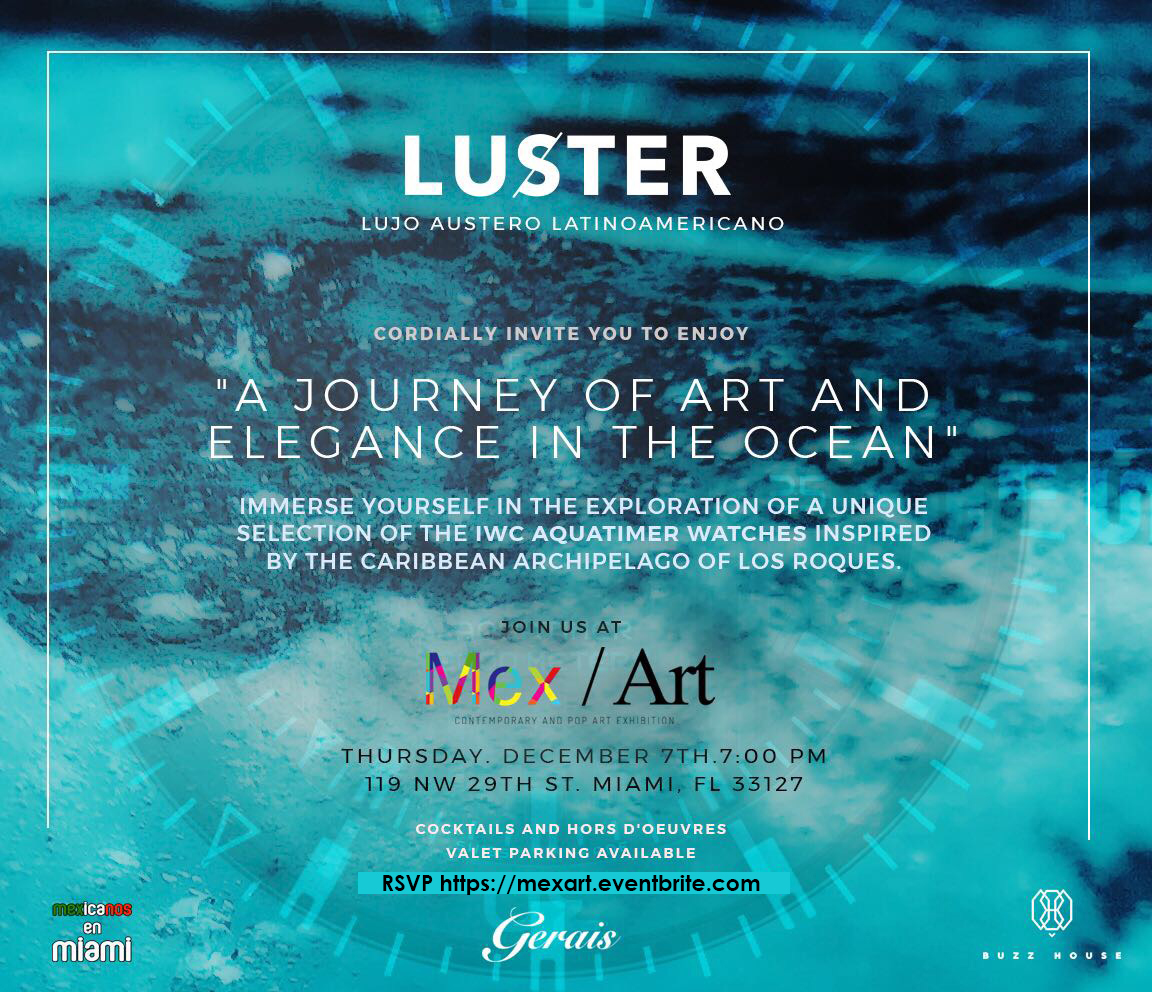 ABOUT MEX/ART
Mex/Art is and exhibition dedicated to contemporary and emerging Mexican Artists taking place during Art Basel Week. Come and enjoy our exhibition with more than 54 pieces from different artists including: pop-realist artist Jesus Lima, graffiti-muralist Neon Caron, collective artists from Madera de Lobo, and a special collection from our Brazilian friend Romero Britto.
During the event our guests will be able to enjoy some Mexican bites, cocktails and soft beats at our "Green Garden" Visit their website for more info www.be-artgallery.com Follow them in Instagram @beartonlinegallery