Event Information
Location
Le Meridien Hotel
1121 Walker Street
Houston, TX 77002
Description
---
Yes, "You Can Have It All"
Join ME&WE for this year's Seminar and learn how it's possible!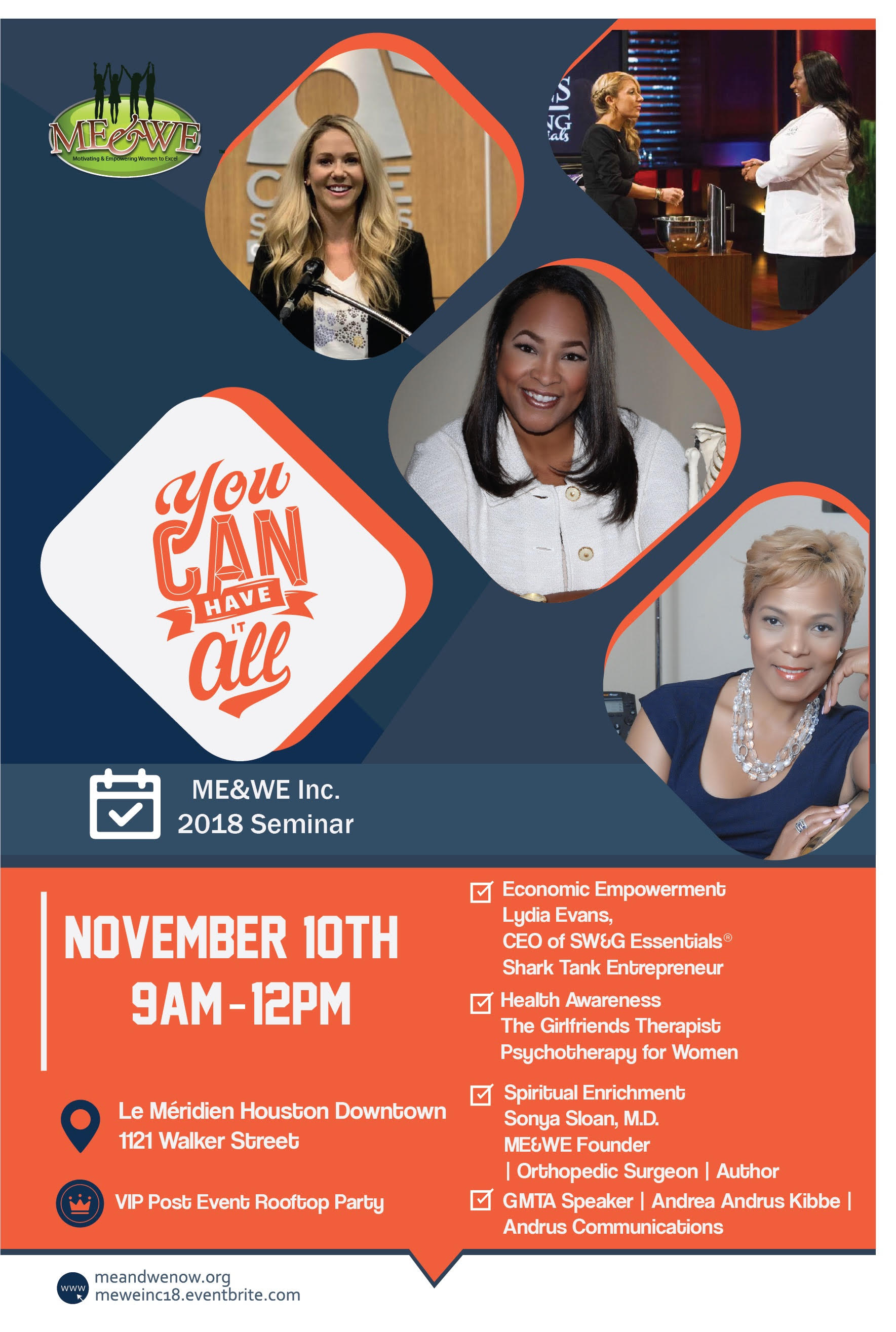 SPEAKERS:
LYDIA EVANS | ECONOMIC EMPOWERMENT | https://www.pure-swag.com
Lydia Evans' first appearance on the hit show "Shark Tank" in 2015 has catapulted her onto a platform of success for her line of Soaps Washes & Grooming Essential products, but not surprising is the demand for her personal brand and the information she has about creating, managing and growing a brand that has been featured in Forbes twice, included in multiple celebrity 'swag bags,' celebrity brand collaborations with Cedric the Entertainer and more. With this success is a lot of interest in the woman behind the products and how she has established such remarkable success. Additionally, people want 'in.' "I am constantly asked how a person can become part of the SW&G® Essentials brand and I am now open to the idea of creating opportunities for this to happen through our new Brand Ambassador Program" says Evans.
As part of the effort to share what she has learned and create a format for entrepreneurs to connect, Evan's is hosting the 1st Annual Entrepreneurial Expose'. The event will feature an impressive line-up of speakers including other entrepreneurs Andrea Shrestha, CEO of LuminAID, Stephen Hersh, CEO of Biaggi Luggage and Neil Werner, Houston franchise owner of Cousins Maine Lobster. Other guest speakers include Joy Lacy, Principal Consultant of Joy of Consulting, Carla Lane, CEO of Lane Staffing and Gary Dante, CEO of Suit Mart stores. Attendees will gain insight on building strategic partnerships, starting and running a business, becoming a franchise owner and addressing staffing and other needs.
"My motivation for creating the Entrepreneurial Expose' is to inspire entrepreneurs to hold onto their dreams. I want to arm them information that will save them a lot of heartache, stress and money as they reach different levels of their business." Evans said.
NETTIE JONES | HEALTH AWARENESS | https://www.nettiejones.com
Nettie Jones graduated from Houston Baptist University where she received dual Bachelor of Science degrees in Psychology and Sociology. She later continued her education receiving a Master of Science degree in Psychology from Our Lady of the Lake University in San Antonio, Texas.
Ms. Jones is a Licensed Professional Counselor in the State of Texas and is in Private Practice. Her office is located in the Missouri City/Sugar Land area in Texas. Ms. Jones' practice and primary focus is working with Women and Women's Emotional Health.
Ms. Jones was an Adjunct Instructor with Wharton County Junior College for over 10 years, where she taught classes in General Psychology and Developmental Psychology. She is a consultant with AVANCE, Houston – Headstart program. She has presented at conferences, workshops and churches on: Integrating Faith into the Therapeutic Process; Women and Depression; Postpartum Depression- A Woman's Struggle; Stressbusters 101- How to Handle Stress in the Workplace; Stress Management – Handle Stress Don't Let it Handle You; Mental Illness in Children – Diagnosis and Treatment; and Train the Trainer – Perinatal Mood & Anxiety Disorders; Body Image and Self-Esteem for Young Women;
Ms. Jones has received special certifications in Perinatal Mental Health Components of Care from Postpartum Support International at the Postpartum International Annual Conference held in Houston, Texas in 2008 and also Train the Trainer in Perinatal Mood and Anxiety Disorder from Mental Health America of Greater Houston in 2009. Ms. Jones has a radio talk show, Your Life with Nettie Jones, "The Girlfriend's Therapist" that airs every Wednesday on Amazing 102.5 FM radio Houston-Galveston. The show is designed to empower, encourage, and promote healthy emotional wellness. Ms. Jones is a native Houstonian, married and is the mother of three beautiful girls.
SONYA SLOAN, MD | SPIRITUAL AWARENESS
Founder of ME&WE Inc.
Sonya M. Sloan, M.D., aka #OrthoDoc, has established herself as a force to be reckoned with in the male-dominated field of Orthopedic Surgery. Licensed to practice medicine in several states, she travels the country to extend the impact of her unique approach to patient care. With a B.S. in Chemistry from Texas Tech University and an M.D. from the University of Texas Medical Branch (UTMB), Dr. Sloan completed her residency at Baylor College of Medicine where she made history as both the first African-American female Intern in General Surgery and the first African-American female Orthopedic Surgery resident. She has authored several published research projects in Orthopedic Sports Medicine and a joint venture with NASA, Johnson Space Center.
MORE THAN A WHITE COAT
Dr. Sloan is the quintessential fusion of her love for science and a passion to help others. Her commitment to impacting lives reaches far beyond the hospital walls and is evidenced by her work in her community and around the world. She has established two specifically purposed organizations called, AAACP (African American Association for Christian Physicians) and a ME&WE, Inc. (Motivating & Empowering Women to Excel), a non-profit which collectively reaches over 5,000 women daily. In 2015, she, along with The Luke Church, initiated the philanthropic efforts for an international health clinic with New Missions Organization in Haiti that now serves a community of more than 100,000 men, women, and children.
Dr. Sloan currently serves on the Board of Trustees for the Institute of Spirituality and Health and Health and Wellness Advisory Committee to DairyMax, a national partner to the NFL and Fuel Up to Play 60 initiative, which helps youth gain the proper daily nutrition. She has been an Adjunct Professor at Concordia University for four years with a focus on Health Care Administration. As a partner in Rowe Docs, LLC, she helped launched her Virtual OrthoDoc telemedicine venture as one of the first of its kind in healthcare for orthopedics.
In 2018, Dr. Sloan launched SLOAN STEM+Arts Summer Camp, a faith-based educational diversity initiative for minority students. She hopes to increase the number of minority students in STEM with early exposure and mentoring, understanding the impact this will make for generations to come.
ACCOLADES
In 2016, Dr. Sloan was chosen as the TEDMED Front Line Scholars. Additionally, she has been listed as one of the "Top 25 Women in Houston," and has been featured in Essence Magazine and several national publications. 2018 will mark the release of Dr. Sloan's first book, an ultimate guide for medical professionals to achieve success through leadership and character building traits. Her work in medicine, as well as her work in the community, has positioned her as a highly sought after public figure for health awareness and motivational speaking.
She is a proud member of Alpha Kappa Alpha Sorority, Inc.
Dr. Sonya Sloan is the First Lady of "The Luke Church" in Humble, Texas, where her husband, Dr. Timothy W. Sloan, is the Senior Pastor. She is the Founder of God's Women Rock; a non-traditional, international, annual awards concert that honors spiritual women of all walks of life who are making a difference for a greater good. Her three greatest rewards in her life are her children.
***VIP ONLY Post Event Rooftop Party (must have a limited VIP ticket $100)
****Graduation of the 2018 Great Minds Think Alike Class
Monique Bassett | Literacy & Me, LLC
Onika Burns | The Hair Garden
Lisa Giesler | Author | Speaker | Professional Organizer
Dee McClendon | The Ideal Assistant Consultant
Lora Roseman | Joli Ide | Beautiful Mind
Jona Stoute | Healing Humanity Global
LaKesha Robinson Strassner | The Ideal Assistant Consultant
GMTA Speaker: Andrea Andrus Kibbe, GMTA Class of 2015 | www.andruscommunications.com
Date and Time
Location
Le Meridien Hotel
1121 Walker Street
Houston, TX 77002
Refund Policy