About this Event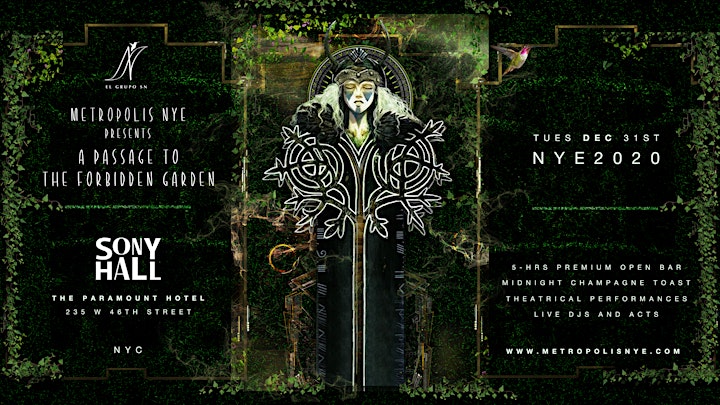 On Tuesday, December 31st, we invite you to ring in the New Year in decadance at Metropolis NYE's A Passage To The Forbidden Garden, an immersive experience blending nightlife and a world of fantasy at Sony Hall for a glamorous New Year's Eve event. featuring a 5-hour premium open bar from 9pm to 2am.
The shining gem of the New York scene in the 1940s, Sony Hall reopens its doors 62 years later beneath the luxurious Paramount hotel for a special New Year's celebration. Step into this glamorous NY gem that has been described as a cross between a church, an opera house, and a bordello. Let our DJ's build up to the energy of ringing in 2020 with a bang.
On this night, you will feel the electrifying energy pulsating through the air in modern day Metropolis, New York City, as guests enter the New Year's Eve 2019 experience. An experience blending nightlife and a world of fantasy at Sony Hall featuring international DJs & live performances throughout the evening bringing Metropolis, A Passage To The Forbidden Garden, to life.
Features:
♛ Full Five (5) Hours Premium Open Bar (9PM-2AM)
♛ Live DJ & Immersive Performances
♛ Dress to impress
More info: www.MetropolisNYE.com
Sony Hall is located inside the Paramount Hotel Times Square on 235 W 46th Street, NY, NY 10036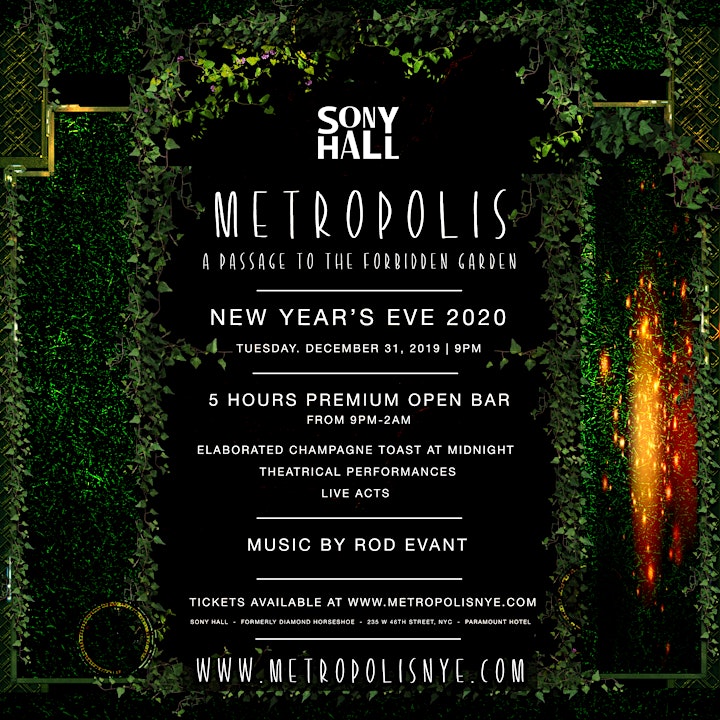 Additional Information: Doors Open at Sony Hall at 9PM for regular ticket holders. Access in and around Times Square controlled by NYPD. Please enter event between 8:30PM-11:30PM and 12:15AM-2:00AM (as regulated by NYPD.) Admittance restrictions may be in place during the ball drop (11:30PM - 12:15AM.) Regardless of admittance time to your party, we recommend you and your guests enter the Times Square area by 9PM. Must be 21 & older to enter. All tickets are non-refundable. If you can not make the event, then you may resell your ticket or transfer your ticket to a friend.
Disclaimer: New Year's Eve ticket prices often go up significantly (100% +) the closer you get to New Year's Eve. Also note that many NYE Events will sell out well in advance of New Year's Eve. About your Tickets: (1) Show up early and help reduce the wait time, (2) Make sure to have your physical ticket on hand because you will need to show it to NYPD and security upon request, (3) You accept the risks and agree to adhere to the NYPD rules and regulations for the evening, (4) Please have a valid 21+ government ID for admittance. Large crowds should be expected (5) All Sales are final & no refunds will be issued