This festive two-day event will be a cultural extravaganza and a celebration of where we've been, how far we've come, and the possibilities
About this event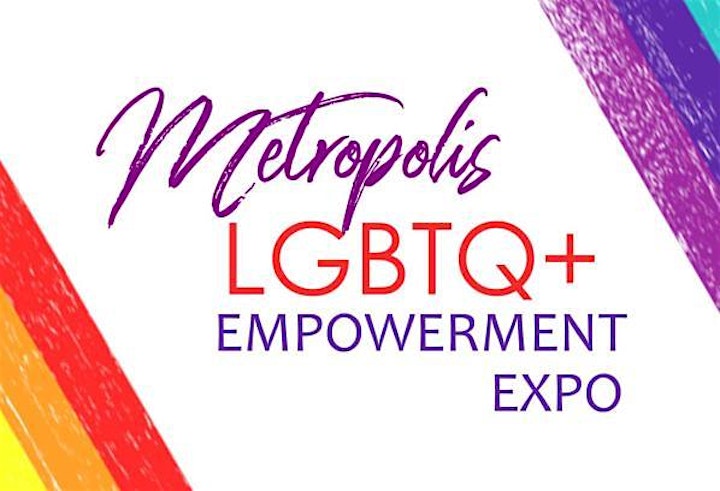 LGBTQ+ EMPOWERMENT EXPO is a kid friendly and family friendly event
This festive two-day event will be a cultural extravaganza and a celebration of where we've been, how far we've come, and the possibilities of where we want to go.
Will there be door prizes? YES
Will there be giveaways? YES
The fun begins at noon
Speakers | Fashion Showcases | Classes | Entertainment | Shopping
Health & Wellness | Education | Wealth Building
SATURDAY NOVEMBER 6 LINEUP
12:00pm - marketplace and doors open
12:15pm – 1pm - Opening Ceremony - The Parade of Colors
MAIN STAGE
1pm – 1:45pm - Asa Leveaux - Becoming an Earth Angel
As a result of attending "Becoming an Earth Angel" you will leave with a queer level of clarity on how to not only be there for the beautiful people in your life but for the most important person in your life…YOU!
1:45pm - 2pm - a Diana Ross presentation by Milky Griggs
2pm – 2:20pm – poetry with Rain Allen
2:30pm - 2:50pm - – Kendra Dahl, aka Ken Chicosky live saxophone performance
3pm – 4pm - The Art of Drag (Drag Show) and discussion panel featuring:
Ruby Scott, Barbie Davenport Dupree, Ariel O'Hara, UnShante Defoxx and Ida Mae Watergate as mc.
4:15pm – 4:40pm - – A.L. Wingfield - The Meaning of Empowerment -
The importance of embracing your identity and never apologize for your existence.
4:45pm – 5:05pm - Reese Gamble - Business Empowerment - " The Power of NetWERKIN Honnie"
FEATURED CLASSES
12:15pm –1:15pm - Lizzy Devitt: Aging – Maintaining Muscle Mass
Learn how to maintain muscle mass now, and well into the future, with key foods and supplements all recommended by science-based research.
1:15pm – 1:40pm - Power Up With Samsung- De-stress Workshop
Your health and wellness have never been so important. Discover how to use your smartphone to help you improve your wellbeing and take some time out for a little self-care.
1:30 – 2:30pm - Lizzy Devitt: Weight Loss – Cravings, Weight Gain and the Blood Sugar Rollercoaster: Learn how nutrient-dense meals support healthy metabolism and which nutrient supplements support healthy blood sugar levels and appetite control.
2:40 – 3:40pm - Andrea Davis - Immune Support – Immune Support 101:
Just like the rest of our body, the immune system requires optimal nutrition to work at its best. Keeping your immune system fed with the right stuff will ensure that your body is ready to handle whatever comes its way during the winter months.
3:50pm – 4:50pm - Alexandra Davis - Stress Support – Fight Back Against Stress: While it's impossible to remove all stress from your life, incorporating a few specific nutrients into your diet can help you deal with life's many stressors
SUNDAY NOVEMBER 7th LINEUP
12pm - 12:45pm: Jayne Bell - Gluten – Free - Taking Gluten Free to the Next Level: For the Holidays .
Whether necessity or choice led you to eat gluten free, this eating style is helping many experience the health benefits: less bloating, less brain fog, and better sleep because of it. What if you could take gluten free eating to the next level? Eating Grain Free may bring you the health benefits you're seeking.
1pm - 1:45pm - Education with Taylor Souryachak: tips for applying for college and winning school grants
2pm - 2:45pm - Jayne Bell -Probiotics: Probiotics: Because Whole Body Health Begins in Your Gut Your gut bacteria influence how every part of your body works: how easily you lose (or gain) weight, how your immune system functions, even your ability to focus.
3pm - 4pm The Fashion Opera - Dreaming in Color Fashion Showcase
a theatrical and visual feast of fashion featuring the latest and imaginative creations in fashion design. From enchanting and wearable works of art to jaw-dropping power suits, capes and breathtaking gowns and crowns, Dreaming In Color is an electrifying fashion showcase presented by The Fashion Opera
4:15pm 4:40pm- A.L. Wingfield - The Power of Choice
"You can't always control the things that happen to you, but how you respond is a choice." How to use your imagination to create the world you want.
4:50pm - 5:10pm Reese Gamble - "It's never a inconvenience it's an adventure" - learn how doors being closed in your life personally and professionally are caveats to success.
Metropolis LGBTQ+ Empowerment Expo
+ Hear poets, leaders, visionaries, and speakers challenge our minds with the power of words from literary works to thought provoking perspectives.
+ See the work of visual artists and performers as they stimulate our eyes with presentations featuring theatrical fashion showcases, musical talent, exhibits, the art of drag and so much more!
+ Engage in panel discussions with our town hall as we discuss and discover better ways to serve and impact our communities.
+ Browse inspirational presentations that explore our history and celebrate movements and milestones.
+ Shop with local and national businesses that respect and embrace our community.
+ Health and Wellness – Get pro-active and explore valuable information on physical, spiritual, emotional, and mental health.
+ Get connected with companies, resources and institutions with our educational workshops and job fair.
+ Discover support systems with The Guardian Angel Network.
Vendor spaces are available for the weekend
For vendor inquiries please send an email to upcomingexpo@outlook.com. There are 5x6 and 10x10 spaces available.
In the subject line type: Metropolis. Please include the name of your business and the type of products you sell and which size space you were interested in. Our vendor registration is done through Venmo or Cashapp. Please include your Cashapp or Venmo id so we can send the registration.