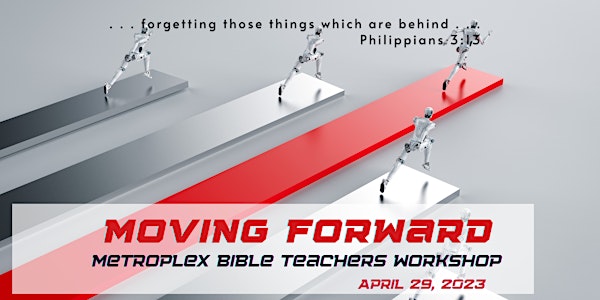 Metroplex Bible Teachers Workshop
This Workshop is designed to equip you personally and help your Church Ministries in "Moving Forward."
By Metroplex Bible Teachers Workshop Committee
Date and time
Saturday, April 29 · 7:30am - 12pm CDT
Location
Greenville Avenue Church of Christ 1013 S Greenville Ave Richardson, TX 75081
Agenda
7:30 AM - 8:15 AM
Registration / Light Breakfast
---
Register, receive attendee packets, enjoy a light breakfast, visit Vendor Booths
8:15 AM - 9:00 AM
Launch Workshop / Keynote Address
---
Devotional, Keynote Address, instructions for the day
9:15 AM - 10:00 AM
Session 1
10:10 AM - 10:55 AM
Session II
11:05 AM - 12:00 PM
Session III
12:05 PM - 1:00 PM
To-Go Lunch
---
Pick up a boxed lunch as you leave; the Vendors will remain on hand until 1 PM.
7:30 AM - 1:00 PM
Vendor Booths Display
---
Includes: BibleTalk TV, ChristianWorks, Christian Care Center, Harding University - High School & Parents (Scholarships), Holistic Homeless Haven, Lifeline Chaplaincy, Marsalis Ave Ladies Bible Class...

About this event
We heard you! The Metroplex Bible Teachers Workshop is back, and we're in person. Join us on Saturday, April 29, from 7:30 am-NOON. Register today for this workshop to uplift, enlighten, and improve your ministries' effectiveness.
Strengthen your leaders and members. Expand your congregation's reach. Respond to your community's needs. Get more involvement from the congregation. Make a difference by showing Jesus' love in practical ways.
You may select up to three of the 45-minute classes.* Everyone who attends will benefit; sign up your family and friends, too.
Please come out to get the inspiration and support the D/FW MBTW offers! (It's not just for teachers anymore . . .)
This event includes FREE breakfast, lunch, and childcare for attendees.
*Twelfth-grade students attending Session III's College Prep presentation are eligible for the Harding University Scholarship drawing. You must attend the class and be present to win.
The churches of Christ salute you. Romans 16:16
We're offering a brilliant line-up of speakers & teachers . . .
Nicole Minor (mentor, educator, administrator), Dr. Jandel Crutchfield (Ph.D., LCSW, asst. professor), Sydney Fears (engineer, author), Jessica Berry (college admissions), Emanuel White Sr. (minister, program founder), Carole Hamilton (motivational speaker, program founder, musician), B. Chris Simpson (minister, educator), David C. Lane (psychologist), Tyrone Jones (minister, educator, musician), Ben Myers (minister, LPC, counselor, educator), Fred Green (elder, educator), Brent Rusk (IT, A/V specialist, entrepreneur), Gerry & Paula Austin (marriage ministry counselors), Mo & Angie Everett (marriage ministry counselors), Rod Hanks (entrepreneur), Gary Jones Jr. (minister, DEI director), Dr. Kenneth Gilmore (minister, professor, author), Alisha Evans (engineer), Randy Clark (missionary, entrepreneur), Cedric Stevenson (missionary)
Frequently asked questions
Is this venue wheelchair accessible?
Will I need to stop for breakfast before I arrive?
What is the MBTW refund policy.
About the organizer
The MBTW planning committee, composed of volunteers from churches of Christ across the D/FW Metroplex, presents this annual workshop for Christian educators and the community interested in enhancing their spiritual growth & teaching skills.