Metrolina's 3rd Annual Fall Course
Description
Join us for Metrolina's 3rd annual end of year CE course! Once again we are working in collaboration with Central Piedmont Community College's dental hygiene students to provide you with the most economical, good quality, six (6) hour CE you will find in town! As one of the last chances to get your continuing education credits, this course is a "can't miss" opportunity. We look forward to presenting you with a wonderful national speaker, a delicious lunch, and an awesome opportunity to network with other hygienists in your area.
Help us welcome Sherri Lukes, RDH, MS, FAADH to Charlotte, NC!

Instructional Objectives:
Upon completion of the session, participants will be able to:
•Explain the etiology of various oral pathologic conditions
•Describe the clinical appearance of various oral pathologic conditions
•List treatment options for various oral pathologic conditions
•Explain the importance of current oral pathology knowledge when conducting intra/extra-oral exams
•Compare/contrast lesions that can be considered in a differential diagnosis for each pathologic entity
•Describe oral symptoms of various systemic conditions as presented in cases
•Discuss implications for the dental hygiene process of care
This course is an overview of oral pathologic conditions from Ms. Lukes' own personal collection of lesion images accumulated over 36 years as a dental hygienist and a 28-year teaching career. Etiology, clinical appearance, treatment options and relevance to dental hygiene are included for each lesion/condition. The course includes both common and uncommon conditions. Most images are from cases observed while in academia, as well as those encountered during annual mission work in Central Mexico. Comparison images for inclusion in the differential diagnosis will also be presented and discussed encouraging dental professionals to utilize all patient information when analyzing lesions. This course can serve as an excellent update for seasoned hygienists/dentists or a relevant review for new graduates entering the field.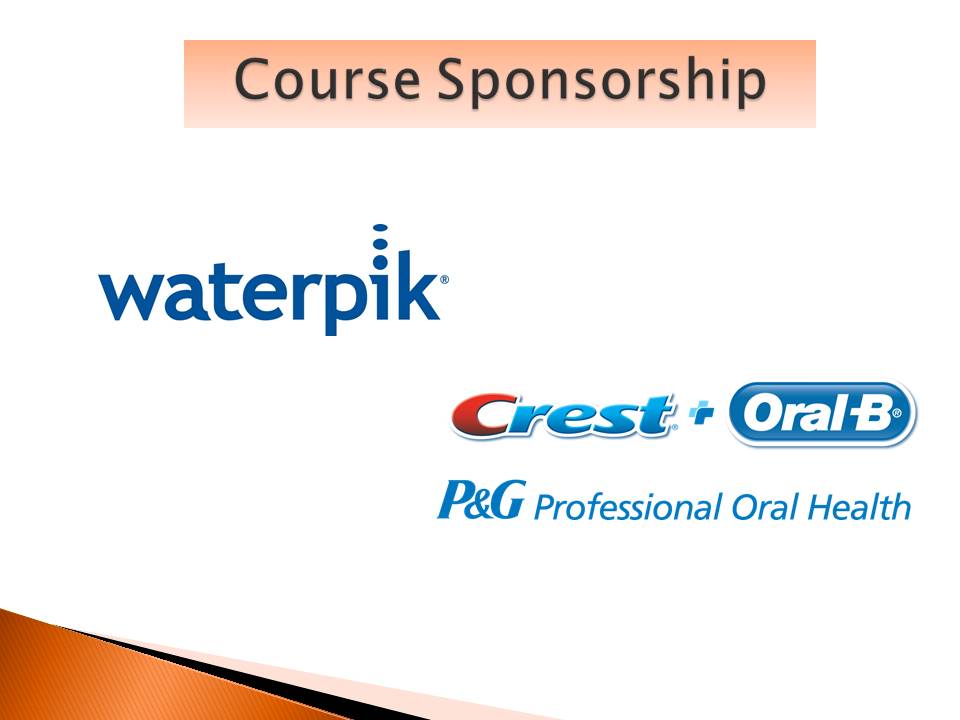 FAQs
What are my transport/parking options getting to the event?
Parking: IMPORTANT! Registrants should use the Student/Visitor Parking Deck 2, which is on the corner of 4th Street and Charlottetown Ave. There is no charge for parking and you may go through the security gate arm to access the higher levels of parking. Here's a campus map for directions. Parking Deck 2 is labeled with a 2 on the map and you will be walking to the Health Careers building on Elizabeth Ave.
Please be aware that we changed buildings for the event this year! We will be located in the Health Careers Building, which is the same building as the Dental Clinic, on the corner of Charlottetown Ave and Elizabeth Ave.
Walking directions are as follows: Exit parking deck 2 onto Charlottetown Ave and head away from 4th street. Turn left onto Elizabeth Ave and the event will be held in the Health Careers Building which will be directly accross the street on the right side of the road. The Health Careers building is on the corner of Elizabeth and Charlottetown Ave. Once you enter the building you can take the elevator or stairs to the 4th floor. If you still have questions on how to find the Health Careers Building, look for the interactive information screen just outside of the parking deck.
Transportation alternative: Charlotte City LYNX Gold Line is a FREE to ride Street Car which is now open and runs from the Time Warner Cable Arena to NovantHealth Presbyterian Medical Center. It operates seven days a week. It runs every 15 minutes during peak hours and every 20 minutes during off peak hours. It has a stop on Elizabeth Ave. just down the street from the Health Careers Building where the event will be held. When you get off the Gold line LYNX you will head up the hill away from the city center and the Health Careers Building will be on the left side of the street.
Google Map to CPCC Central Campus
Is my registration/ticket transferrable?
Yes, you can transfer your registration to another person
What is the refund policy?
Refunds are available up to 5 days before the event. Due to meal orders, we are unable to accomodate any later refund requests. You may transfer your registration to another name if needed.