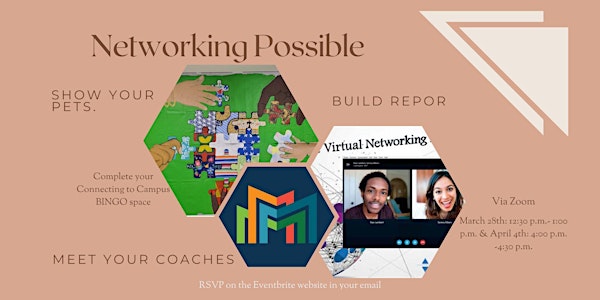 Metro Mixer (Prizes and Games)
The purpose of this event is to build repour with students both on and off campus in an online setting. 20–30-minute Zoom Event.
By Collegiate Success Coaches at Metro State is Saint Paul, MN. (Via Zoom)
Date and time
Tuesday, March 28 · 10:30 - 11am PDT
About this event
Metro Pet Mixer
Do you have what it takes?
To assist students with connecting to campus more efficiently we are hosting our first ever College Networking Mixer with an incentive that. This short event will have 2 opportunities to win and a barrage of networking capabilities for our social butterflies:
Icebreaker (5-min): All My Friends include stating something you like and those who agree with the activity would prompt an emoji. For participants to get to know each other. Mention that this light fun event is part of the BINGO C2C raffle taking place on campus.
James
The First is a Friendly Pet Mixer (10-min WHOLE GROUP) where ONE of YOUR pets could win you both bragging rights. All that you'd have to do is come prepared with your pets'
Introductions (name nickname)
Age, Gender, Zodiac
Your (pets) favorite hobby
Favorite leisure activities
Favorite places inside of you all's house
SHOWCASE SOMETHINGTHAT THEY CAN DO. This includes tricks, illusions, occupations, voiceovers, cute birthmarks, or even just a unique fur coat.
Quinton
The Second is This-or-That (10-min BREAKOUT GROUP #1) where you will partner with a random cohort dependent upon the selections you choose. Similar to the TV show Wildin' Out on B.E.T there will be 2-3 groups who will convene with one another to formulate the reasoning for their opinion. Then they will vote for a representative who will share their perspective most effectively. Then we will see which group was most persuasive and more importantly FUNNY! -That group will then be crowned the winner after a series of rounds. Each member should walk away with a small token for attendance (SUPER SMALL PRIZE TBD).
Melissa
There have been emails spreading the word about Connecting to Campus Bingo where students who line-up any of the spaces will qualify for a drawing to win cash prizes. This is a way to fill another space and guarantee a winning outcome as the winning odds are extremely high.
The Third is Kahoot (10-min BREAKOUT GROUP #2) will synopsize the event and ask questions about things that can help further the agenda for college possible and success coaches on Metro States Campus (Should be developed as a coaching group so that ALL ideas, questions and inputs are explored as well as implemented.)
Eric
Agenda
12:00 PM - 12:05 PM
Introduction
12:05 PM - 12:15 PM
Pet Mixer
12:15 PM - 12:25 PM
This or That
12:25 PM - 12:30 PM
Kahoot