Description

Metro Atlanta Business Association
Inaugural Business Meeting with Lunch


Thursday June 22
11:30 am – 1:30 pm


Ruth's Chris
11655 Haynes Bridge Rd
Alpharetta, GA 30009


All Attendees MUST Pre Register and Pre Pay Online in Advance by 6/19
What is the Metro Atlanta Business Association?
The Metro Atlanta Business Association is a new regional business development organization for all metro Atlanta-area SMB/SME business owners and senior executives who have joined together to promote success, enhance development, employ advanced marketing techniques, increase sales, discover new contacts optimize revenue, develop ways to reduce expenses and costs, discover new contacts, and maximize employee production and results -- through professional business events, networking, educational, sharing, advertising and marketing initiatives for the region.
The goals of the association are to help member businesses Increase Sales, Reduce Expenses, Sustain Business Longevity, Success and Profitability
.


Who Is It For?
All counties and regional businesses welcome in the 20-county metro Atlanta area, no industry restrictions to attend. The association is currently accepting new members. Corporate and individual membership levels are available.


Why Should I Attend?
·
Professional Program, Environment, Setting, Culture & Atmosphere
·
Network with Like-Minded Professionals, Discover New Contacts
·
Upcoming Programs on Business Development
·
Digital Marketing Lead Generation, Employee Development
·
HR, Branding, Profitability, Power Speakers on Sales/Marketing
·
Websites, Social Media, Business Development Emphasis
·
Cost/Expense Reduction
·
Regional Publicity and Advertising Opportunities
IMPROVE, ENHANCE, DEVELOP AND INCREASE YOUR NETWORK AND EXPOSURE
ALL COUNTIES AND BUSINESSES WELCOME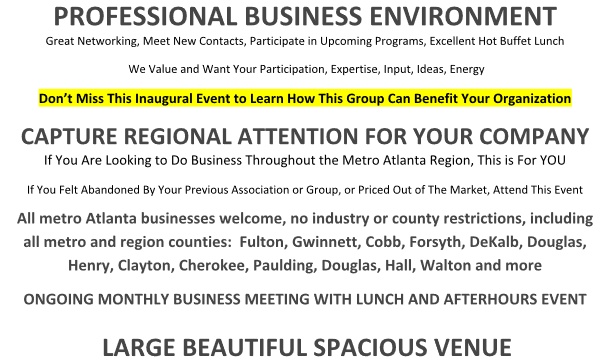 Photos from Georgian Club Lunch
A packed house. Don't miss the Ruth's Chris Event