Metrics that Matter, Messages that Motivate - Making the Right Case for Sustainability in Healthcare
When and where
Location
8th Floor Colloquium Hall in Jon M. Huntsman Hall, The Wharton School, University of Pennsylvania 3730 Walnut Street Philadelphia, PA
Description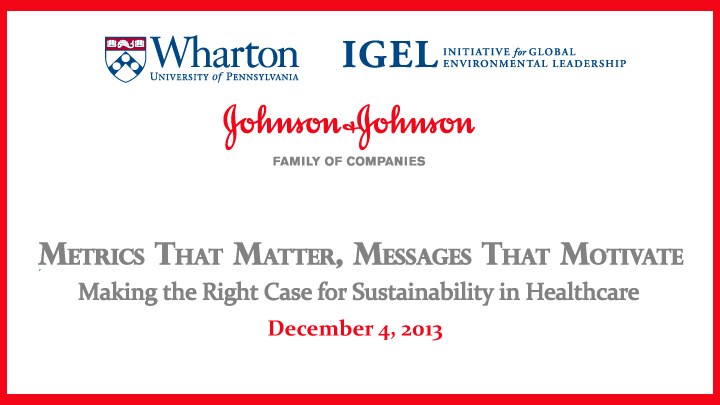 Hosted by: Wharton IGEL, Johnson & Johnson

Event Title: Metrics that Matter, Messages that Motivate
Event Theme: Making the Right Case for Sustainability in Healthcare
Abstract: While sustainability is gaining traction in the world of healthcare, many healthcare organizations struggle with making the business case to their CFO, providers and even to their suppliers. This one-day conference hosted by the Wharton school will focus on the key drivers of sustainability and explore what benefits/outcomes are most compelling to the different players. We'll hear how companies in healthcare and other industries have succeeded at getting their CFOs and Commercial leaders to become fans of sustainability, how they have communicated the importance of sustainability to suppliers, and how they have made sustainability a differentiator in the marketplace.
Location: The conference will be held at the Wharton School, University of Pennsylvania, in the 8th Floor Colloquium Hall in Jon M. Huntsman Hall, at 3730 Walnut Street, Philadelphia, PA. View directions to Jon M. Huntsman Hall.
Dress code for this event is business.
See conference flyer here and please use the hashtag #sustyhealthcare for all updates!
Agenda:
Wednesday, December 4, 2013
9:00 - 9:45
Registration & Coffee
9:45 – 10:00
Kick-off
and Introductions

10:00 – 11:00
Panel One: Metrics that Matter
Bennett Thomas, Vice President of Finance and Sustainability at Hersha Hospitality Trust
Erol Odabasi, Director of MD&D Sustainability, Johnson & Johnson
Libby Bernick, Sr. Vice President at Trucost
11:00 - 11:15
Networking Coffee Break
11:15 - 12:15
Panel Two: Messages that Motivate
Anne Papageorge, VP of Facilities and Real Estate Services, University of Pennsylvania
Liz Gorman, Senior Vice President, Sustainable Business, CONE Communications
Cathy Rowan, Director of Socially Responsible Investments for the Trinity Health Division of CHE-Trinity Health
12:15 - 1:00
Lunch
1:00 - 2:00
Closing Keynote: Scott Ramsey, National Leader in Healthcare Economics and Director of Fred Hutchinson Cancer Research Center Institute for Cancer Outcomes Research and Evaluation