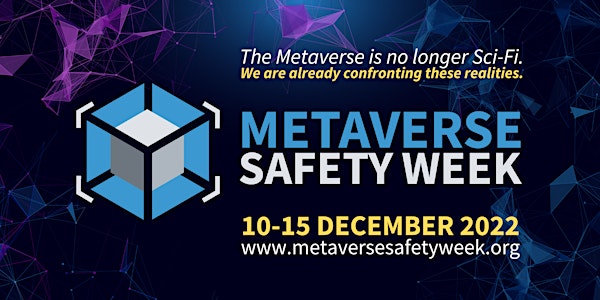 Metaverse Safety Week 2022
MSW is the annual international awareness campaign for bringing the world together to explore the challenges & help safeguard the Metaverse.
About this event
5 days 8 hours

Mobile eTicket
The Metaverse is no longer Sci-Fi.
We are already confronting these Realities.
The Metaverse Safety Week (MSW 2022) is an international community effort, a safety awareness campaign, led by the XR Safety Initiative(XRSI), featuring industry leaders from around the world at a week-long conference inside an exclusively created Virtual World.
The 3rd annual Metaverse Safety Week, we celebrate the opportunities to create a better and safer Metaverse for all, spreading awareness and promoting policies, guidelines, and research. We explore core issues related to the Metaverse through art, panels, debates, and workshops, bringing global perspectives to advance our shared ecosystem.
It's an experience that attracts multidisciplinary talent to address the risks and opportunities that come along with the next iteration of the Internet, the Metaverse. An opportunity to meet the international speakers and participants including lawmakers, regulators, technology leaders of international organizations, EU/US/UN officials, civil society representatives, business executives, and more in an exclusive online Virtual World.
Save the Date: December 10-15, 2022!
Our 2022 virtual event will open on 10 December for 5 days of online sessions in a unique virtual venue and rich, immersive experiences crafted for the occasion. MSW 2022 will feature a global agenda with sessions, social moments, panels, and live interviews.
For more information about the event, visit metaversesafetyweek.org.
About the Agenda
MSW 2022 aims to create awareness of the opportunities and the associated risks of the mass adoption of the immersive domain. We are bringing the world together to help safeguard the Metaverse with following agenda carefully crafted for each day:
Saturday, December 10: Human Rights in the Metaverse
Monday, December 12: Digital Culture, Arts, & Media
Tuesday, December 13: Child Safety & Children's Rights
Wednesday, December 14: Medical XR & Immersive Healthcare
Thursday, December 15: Policy, Trust & Governance
Get into the Metaverse with Awareness
Humankind is moving from a post-truth to a post-reality era, diminishing the sense of safety, certainty, and trust. We have an opportunity to address these risks proactively and reduce harm to humans and societies by coming together to build awareness and safeguards.
Metaverse Safety Week is an awareness campaign with the core component being the conference hosted by XRSI. Stakeholders and experts are encouraged to organize Metaverse-related events as well as participate in events organized by XRSI to share their knowledge, creations, and achievements with the world through panels, live streams, content releases, virtual events, networking sessions, and more.
We keep Privacy, Safety, and Trust at the forefront throughout the week.
What To Expect
MSW 2022 will explore the risks & opportunities that come along with the mass adoption of the Metaverse-related technologies & platforms. A safe place for discovery, with talks on theoretical and practical aspects of the industry and how to move it forward from leading international experts & scholars.
Partnering with educational institutions, MSW 2022 delivers the skills, ideas, and forethought to everyone interested in building our future with awareness.
Key Topics: Accessibility, Advocacy & Policy, Design & Architecture, Diversity & Inclusion, Education, Virtual Economies, Arts & Media, Ethics & Privacy, Immersive Healthcare, Human Rights, Marketing, Policy & Governance, Society & Culture, Safety & Security, Finance & Commerce, Training & Simulation, and a lot more!
The Metaverse Safety Week is created and promoted by the XRSI, the first global nonprofit and Standard Developing Organization (SDO) with the mission of helping build a safe and inclusive immersive ecosystem.
XRSI is a part of the World Economic Forum Global Coalition for Digital Safety. It provides oversight, practical information about XR and Metaverse related risks and opportunities to individuals, corporations, universities, government agencies, and other organizations worldwide.
Partner With Us!
The Metaverse Safety Week is a unique opportunity to partner with XRSI and to be a part of the global community to ensure the Metaverse is safer for everyone. By sponsoring the Metaverse Safety Week, you demonstrate your commitment to a healthy Metaverse ecosystem while connecting with thousands of like-minded supporters.
Contact us for more information.
Code of Conduct
XRSI aims to promote safer solutions for the Immersive domain (Augmented, Mixed, Virtual reality, and other Metaverse related technologies), by developing standards, frameworks, and guidelines to the industries, the professionals and the stakeholders.
Everyone who attends Metaverse Safety Week needs to feel welcome and empowered to participate. We, the members of the XRSI, pledge to cultivate a community that welcomes and respects every participant, regardless of their age, physical appearance, ethnicity, nationality, religion (or the lack thereof), sexual identity, orientation, background, family status, gender identity or expression, marital status, native language, race, national origin, political party affiliation, socioeconomic status, geographic location, veteran status, color, age, disability, and any other consideration protected by federal, state, or local laws.
Photo and Video Release
XRSI, being the first such global effort, finds itself uniquely positioned to provide impartial, practical information about Metaverse related risks and opportunities to individuals, corporations, universities, government agencies, and other organizations worldwide. We record Metaverse Safety Week to share important discussions and experiences with people who are unable to attend in person. By entering our virtual space during our event, you agree that XRSI has the right to use your likeness, image, voice, etc. in photos, videos and in any educational, marketing, advertising or related endeavors. You will not be compensated in any way for the use of your likeness, image, voice, etc. Being on these premises during our event means that you release and hold harmless XRSI from any claims or actions that arise as a result of this production. Thank you so much for your support and cooperation. We look forward to seeing you soon!
The technology industry represents the most concentrated corporate power in the world and one of the most powerful forces in modern history. We can't build a better Internet, unless we learn from the mistakes of the past, innovate responsibly, and join forces together in a shared effort to create an Open, Safe, and Inclusive Metaverse.
Metaverse Safety Week is XRSI's flagship fundraising event. Your support will help XRSI fulfill its mission and vision of creating a safe Metaverse.
Your contributions will help support XRSI's key initiatives and projects.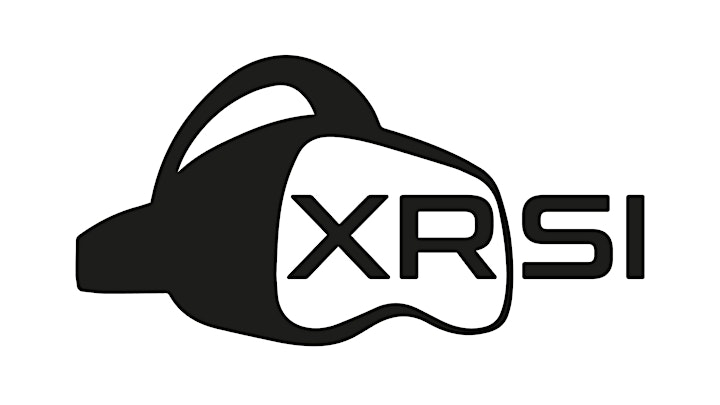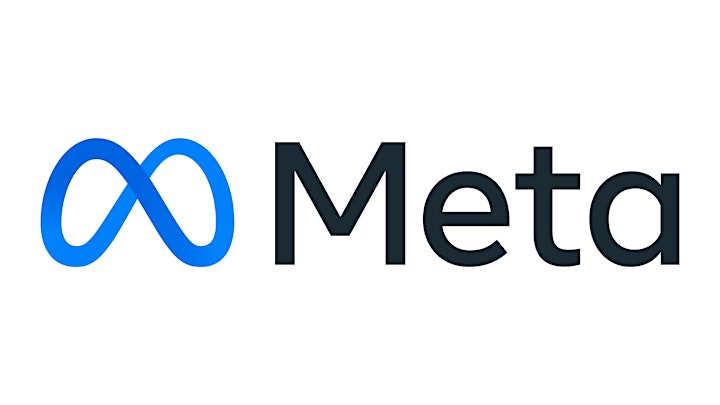 Thank You To Our Sponsors