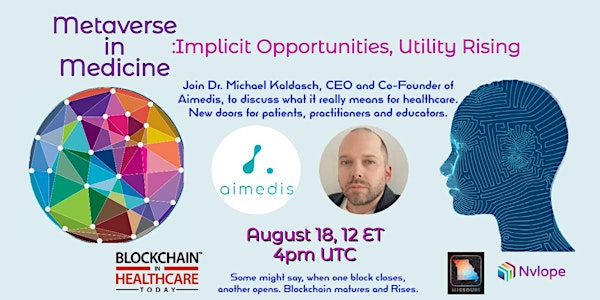 Metaverse in Medicine: Implicit Opportunities, Utility Rising
The Inclusion of the Metaverse in Healthcare is inevitable. It has utility and it's not a Crypto game. It's patient-centric.
About this event
Aimedis is what the future of ambulatory healthcare could look like. Virtual and Augmented Realities will be a big part of Healthcare's move to more 'modular' management. Many patients have large implicit costs associated with outpatient appointments in person. Should we expect a recovering patient from orthopedic surgery to attend in person, every time? This is where fixed assets start to become a burden to the bottom line. You need implicit opportunities. Increasing Utility. What's on the market today?
"The Aimedis health platform and the world's first medical and scientific NFT marketplace target B2B markets as they offer a completely new revenue stream and revolutionize the way medical data is gathered, distributed, evaluated and monetized."
Join a conversation about the introduction of the Metaverse into more Healthcare applications. Dr. Michael Kaldasch is one of a few pioneers in this space with a whole universe of new possibilities.
The thought of a City, dedicated to health with inclusion for professionals, para-professionals, educators and all related industries with integration into an operational level. This is an example of what an enterprise grade metaverse would look like to address patient demands. Younger people will want more doors, more options and ownership of their data...or a stake in the monetization thereof.