Event Information
Location
Shakespeare's Pub, Ale House room
314 E 6th St
Austin, TX 78701
Description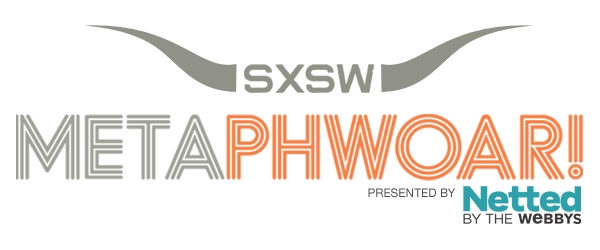 In partnership with Metaphwoar! host and creator Andy Whitlock, Netted by the Webbys is bringing London's sexiest metaphor-themed event stateside for the first time ever!
Five incredible speakers will enlighten/surprise/astound you via the medium of metaphor, and change the way you think about things forever.
(Also, there will be beer. Lots of beer.)
Join the Netted and Webby teams at 5pm on Saturday, March 9th at Shakespeare's Pub to learn just why metaphors are so darned sexy.
(And also for the beer. Literal, not metaphorical beer.)
• • • • • •
Who's on deck:
Grace Helbig - Creator & Host, Daily Grace
Ben Huh - CEO & Founder, Cheezburger
Hannah Hart - Creator & Host, My Drunk Kitchen
Nik Roope - Founder & ECD, POKE
Callie Schweitzer - Director of Marketing, Vox Media
• • • • • •
Space is limited; reserve your spot now! A SXSW badge is not required, but you must have a valid reservation and be 21 or over to attend. By RSVPing, you agree to recieve the daily Netted email, which is pretty much the best thing ever.
If you have questions, please direct them to hello@netted.net with "Metaphwoar" in the subject line.
Date and time
Location
Shakespeare's Pub, Ale House room
314 E 6th St
Austin, TX 78701