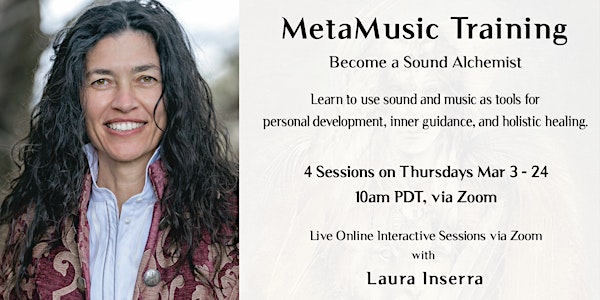 MetaMusic Training 2022
​Learn to use sound and music as tools for personal development, inner guidance, and holistic healing.
About this event
Seeds of Gold Institute & Laura Inserra present
MetaMusic Training 2022
The expansion and integration of the Foundation Course
4 Sessions on Thursdays Mar 3 - 24 // 10am PDT, via Zoom ~ Time Zone Converter
​Online Interactive Sessions with Laura Inserra / ​MetaMusic Foundation Course Required​
MetaMusic Training is a series of 4-week programs of in depth learning, analyzing, and practicing sessions for those you have already taken the Foundation Course or any previous Training cycle. Every Training has a unique program and is an iteration of the previous ones, bringing new topics, tools, and discoveries. 
Every session will be recorded and shared with you, so that you can review and integrate the content at your pace.
As a continuation of the Foundation Course, the structure of the Training is based on the development of the 3 main pillars: 
​Learning (Source) - we will deepen the topics of the Foundation Course while learning new perspectives and dynamics.
Analyzing (Self) - we will watch and analyze together Sound Journeys and learn new tools through guided listening and felt recognition.
Practicing (Self-Other) - we will practice sound journeys, sacred ceremonies, guided meditations, shamanic journeys, self-care practices, and a variety of healing modalities.
In order to access different aspects of this body of work, we will engage with  3 archetypal characters - the Teacher, the Healer, and the Shaman. We will use the guidance of these pathways and modalities to create a holistic approach to personal transformation and collective healing, as well as strengthen our natural skills and acquired capabilities.
MetaMusic Training is offered online and open ONLY for those who have taken the Foundation Course. We will meet and interact face-to-face via Zoom. Each session will be recorded and shared with you, so that you can review and integrate at your pace.
Laura is giving a few scholarships to those who cannot afford the tuition. If you need support, please take a moment to fill out the Scholarship Form
If you did not take already the Foundation Course and are interested in the Training, you can enroll for the pre-recorded Foundation Course on Teachable but be sure that you will finish before Feb. 16th so you can follow and receive the best out of the Training. Here is the link metamusic.teachable.com/p/metamusic-course-2021
MetaMusic Course 2021~ Presentation + Sound Journey
Live-streamed on Saturday February 20th, 2021