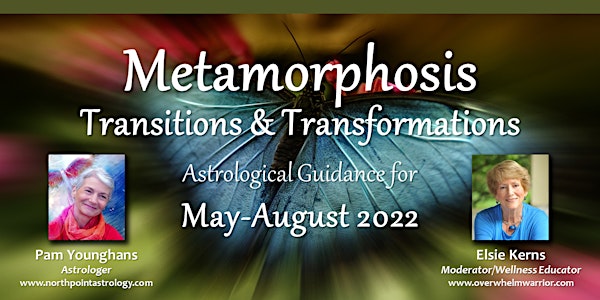 Metamorphosis: Transitions and Transformations
Astrological Journey from May-August with Pam Younghans
Refund Policy
Contact the organizer to request a refund.
Eventbrite's fee is nonrefundable.
About this event
Metamorphosis:
Transitions and Transformations
Astrological Guidance for May-August 2022
With Astrologer Pam Younghans
And Moderator Elsie Kerns
Airing live and recorded for replay
Monday, May 9, 2022
4 pm PDT | 5 pm MDT | 6 pm CDT | 7 pm EDT | 11 pm GMT
75-minute class | $27 USD
AS WE BEGIN the middle four months of 2022, we are riding waves of profound change. A Total Lunar Eclipse in Scorpio leads the way in May, activating a deep release of toxic patterns and behaviors that no longer serve us or the greater good. In June, the Cancer Solstice occurs at the time of the Last Quarter Moon, marking the onset of three months of realignment, revision, integration, and cleansing. And, in July and August, we are propelled into the future in surprising ways as warrior Mars, unpredictable Uranus, and the karmic North Node all align.
During this class, astrologer Pam Younghans will explore and explain the meanings of these and other significant events that will occur in May, June, July, and August. By understanding the purposes of the planets and how they will shape our shared experience during this four-month period, we can more consciously utilize the energies that will be at play.
Pam will begin the class with an overview of the main events we will be working with over this four-month period. Then, for the main portion of the class, she will walk us through the monthly calendars, explaining the planetary events and energies that will be in effect. These calendars will be sent to you before the class airs so that you can use them for taking notes.
This webinar is for everyone, whether you are a newcomer to astrology or have spent years in study. And no worries if you're not able to attend live! Everyone who registers will have full access to the replay and calendars for later viewing.
WE HOPE YOU CAN JOIN US! If you have any questions about registration or payment options, please contact moderator Elsie Kerns at elsie@wellnesswithelsie.com or call 856.988.7426 (Eastern Time Zone).