Description
Come and experience the healing power of arts in this Solo Exhibition by master artist and holistic therapist Helen Kagan, enjoy an evening with the artist during our opening exhibition featuring autograph signing by the artist, live music, wine and lots of helean arts. See you there!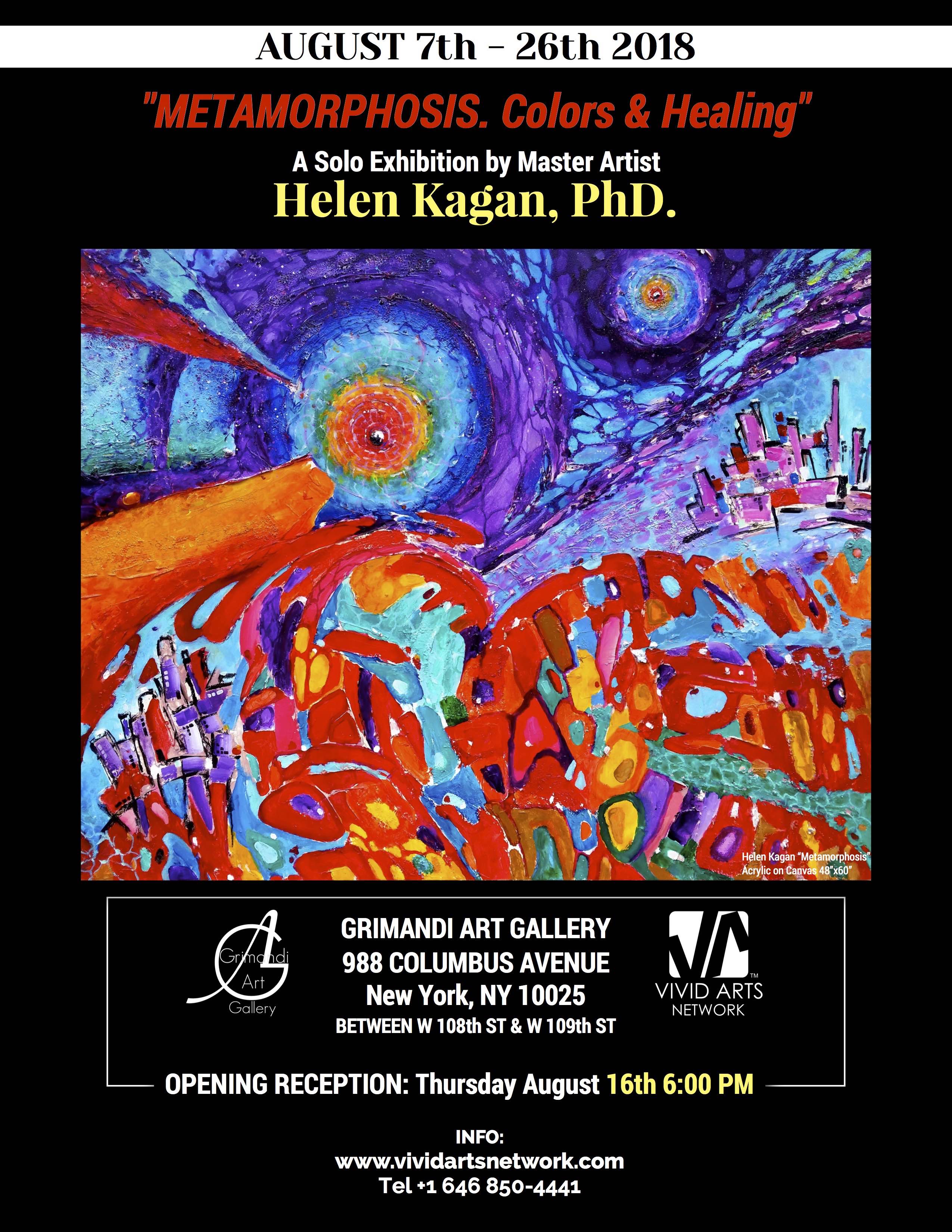 Helen believes that Art heals. She believes in the interconnectedness of mind, body, and spirit. A holistic therapist and artist, Dr. Kagan integrates Fine Art and the Art of Healing to develop her unique concept "Healing Arts" that can enhance well-being and bring healing to those in need.

Helen has shown in many physical and online Galleries, cities, states, countries; Art Magazines, Articles, Catalogs including FL Design Magazine, FineArt NY Magazine, BLINK Art Resource, ArtTour International (Top 60 award), Brickel & Key Biscayne Magazines (collectible artist); in major Art Shows, including ARTEXPO NY, SPECTRUM ArtBasel Miami, Art SanDiego, ArtHop VT; won awards, donated to Charities, and continues to create.
Helen's canvases are varied and vibrant; some are raw, some refined, all - intuitive. There are bridges to the past, Galaxies, and Universes, cities in the rain, music, fields of sunflowers, moons, and sunsets... There is always a mosaic of specific colors, shapes and forms, symbolism, and spiritual messages present in her art: being on your Journey, going towards the Light, following your Path, awareness of "Here and Now," and of course - 'J'oie de Vivre'!

"Metamorphosis" by definition – is a profound change from one stage to the next. And this is exactly what Helen communicates in her art via positively charged intention, healing frequencies of color, embedded spiritual messages, and energetically balanced composition. By awakening senses, memories, energies, and thoughts of the divine, she leads a viewer to tap into their source to allow healing to take place. Her art is not just viewed but experienced. A viewer is invited to experience not only an artistic enigma and mastery but – to embrace a very positive aura of her compositions, to have their own spiritual experience and profound realization(s) while feeling energized and enlightened. In her own words – "for many of us, creatives, art is a spiritual path, a transformational process, a way of being. Helen believes her "Healing Arts" can make a difference in people's lives. Her vibrant, passionate art is a statement of all her beliefs.
Organizer of Metamorphosis. Colors&Healing, Solo Exhibit by Helen Kagan
ArtTour International, the fastest growing art magazine in the international market, covering Europe and the Americas, dedicated to exposing contemporary art by bringing it to the eyes of collectors, art buyers, dealers, art critics, gallerists and art lovers.
ArtTour International Magazine Reaches over 2.1 million online readers and targets 50,000 readers on the printed publication on more than 64 countries around the globe.
Don't forget to LIKE our pages and affliations: