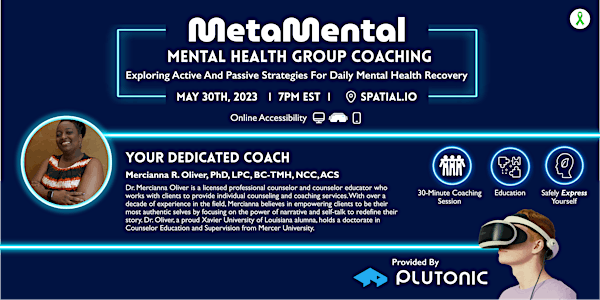 MetaMental: Immersive Mental Health Group Coaching
For mental health awareness month, we are providing a curated mental health group coaching session in an immersive virtual space.
Date and time
Tuesday, May 30 · 4 - 5pm PDT
Refund Policy
Refunds up to 1 day before event
Eventbrite's fee is nonrefundable.
Agenda
7:00 PM - 7:10 PM
Avatar Creation & Tutorials
---
Use one of the default avatars or create your own. Get acquainted to the controls. Walk around the space.
7:10 PM - 7:40 PM
Mental Health Group Coaching Session
---
Facilitated by Mercianna R. Oliver, PhD, LPC, the coaching session topic will be exploring active and passive strategies for daily mental health recovery.
7:40 PM - 8:00 PM
Closing Remarks
---
Hang around with potential opportunities to meet others.
About this event
Happy Mental Health Awareness Month!
Join Plutonic as we host a group mental health coaching session in a curated virtual space.
Our group mental health coaching session will be May 30th in a virtual space designed by our team of experts and hosted on Spatial.io.
The 30 minute mental health coaching session will be provided by Dr. Mercianna R. Oliver, a licensed counselor and mental health coach.
Topic: exploring active and passive strategies for daily mental health recovery.
There will be opportunities to explore our virtual space before and after the coaching session.
Capacity is limited to up to 30 participants.
Participants must abide by the Plutonic terms of use found on www.plutonic.co and in our virtual spaces. This is not a gathering that will provide medical advice and/or therapy.
METAMENTAL VIRTUAL VENUE:
The coaching session will be hosted in an exclusive invite only curated virtual space hosted on Spatial.io. This virtual space's features include:
Informative presentation of strategies for daily mental health recoveries.
Customizable avatars for guests. Stay annymous if you like!
Voice, video and chat systems.
Emotion and reaction animations.
Q&A session.
HOW TO JOIN
After registering through Eventbrite, you will receive email instructions and reminders on how to join the virtual coaching session.
The virtual space is accessible by PC, virtual reality device and mobile phone. We highly suggest participants join on a desktop with a wifi connection or on a virtual reality device (download the Spatial.io application).
THERE WILL BE NO TOLERANCE FOR BAD ACTORS IN THIS EVENT. ANY DISRUPTIVE BEHAVIOR WILL RESULT IN BEING PROMPTLY REMOVED FROM THE SPACE. THIS SPACE IS NOT A GATHERING TO PROVIDE OR RECEIVE MEDICAL ADVICE.
Refund policy: Refunds provided up to 24 hours before the event. Please contact info@plutonic.co or request refunds through the Eventbrite system.
See you in the mental health metaverse!
Your Experienced Mental Health Team
James Shu | Plutonic Founder and CEO
Avid gamer and metaverse user. Experienced healthcare and technology entrepreneur. 1X Exit. 2X Founder. Living in the metaverse since 2004.
I've seen through family and personal experiences how the mind can be a double edged sword. I'm no stranger to mental health challenges. I always turned to online communities and without finding ways to improve my mental health and become more resilient, I wouldn't be where I am today. I know there are millions of us out there that want to live better, longer and have better relationships. I hope MetaMental can be a stepping stone to that.
Mercianna R. Oliver, PhD, LPC, BC-TMH, NCC, ACS | Facilitator and Your Dedicated Mental Health Coach
Dr. Mercianna Oliver is a licensed professional counselor and counselor educator who works with clients to provide individual counseling and coaching services. With over a decade of experience in the field, Mercianna believes in empowering clients to be their most authentic selves by focusing on the power of narrative and self-talk to redefine their story. Dr. Oliver, a proud Xavier University of Louisiana alumna, holds a doctorate in Counselor Education and Supervision from Mercer University.
Amy Ahn, PhD | Mental Health Clinical Advisor
Dr. Ahn received her undergraduate degree in human development from Cornell University, and her master's degree and Ph.D. in developmental psychology from the University of Miami. Dr. Ahn has expertise in leveraging automated measurement tools to conduct quantitative research on young children's socio-emotional development, including social communication in children with autism spectrum disorder. Her current research focuses on using a mixed-methods approach to develop, refine, and implement an evidence-based, indicated prevention program to better fit the needs of teens who have anxiety and depressive symptoms, and/or other emotional concerns in racially- and culturally-diverse high school settings.
ABOUT PLUTONIC
Plutonic provides immersive mental health services and gamified content. We are democratizing immersive and gamified mental health services to improve organizations, individuals and families.
MetaMental is our dedicated platform provides mental health peer support, mental health coaching and talk therapy.
Learn more at https://www.plutonic.co/
Frequently asked questions
Where is this mental health coaching session being provided?
Who is this mental health coaching session for?
Why a virtual space with avatars?
What devices can be used to access this session?
About the organizer
We are a provider of immersive and gamified solutions to improve mental health and diversity, equity and inclusion. This includes content in virtual reality, metaverses and gamified mobile applications. Our community gains access to live events and is focused on helping improve each others lives.
Check out our content library at www.plutonic.co