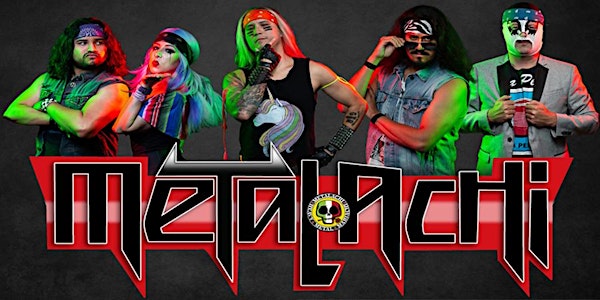 Metalachi - Return of the World's Only Heavy Metal Mariachi Band!
ALL AGES
Presented by the Cactus Theater
Metalachi - Return of the World's Only Heavy Metal Mariachi Band!
When and where
Location
Cactus Theater 1812 Buddy Holly Ave Lubbock, TX 79401
About this event
Metalachi is not your mama's mariachi band. Nor is it the type you will find playing at restaurants or weddings. At least not any more.
The five-piece fusion band Metalachi, which bills itself as "the world's first and only heavy metal mariachi band," has been compared to both Spinal Tap and Cheech and Chong. And if that sounds like a strange simultaneous comparison, that's because it is. The band blends both styles to create on over-the-top performance with music and comedy.
To decipher the difference in what they do onstage versus what people expect to see and hear from classic mariachi bands, the act's bio states that their brand of music consists primarily of heavy metal favorites "all played with traditional mariachi instrumentation but with a stage show that strays far from traditional."
Band members go by stage names such as "El Cucuy" and "Paco Halen." Their covers include The Immigrant Song by Led Zeppelin and Livin' On a Prayer by Bon Jovi. The band's bio reads like an old Mexican legend, saying the five band members came to the United States as babies in the saddlebags of a burro. Once they set food on American soil, they unearthed the album Paranoid by Black Sabbath, which served as their musical guide.
They have been featured on America's Got Talent, CNN's Great Big Story, Rolling Stone en Espanol and National Geographic, among other outlets.
Tickets:
Reserved floor and standard balcony seats $15 advance; $20 day of show; Balcony box seats (includes concessions) $36 advance; $44 day of show