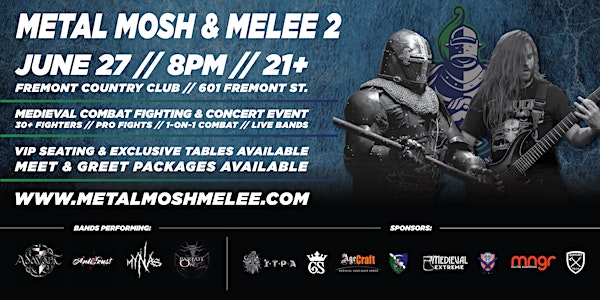 Event Information
Performers
Location
Fremont Country Club
601 Fremont St
Las Vegas, NV 89101
About this event
Hey Metalheads! Did you miss the last Metal Mosh & Melee?!?!? Because it was F***ing EPIC!!!! Last time we had pole arms and 3v3 melees. The crowd watched while wrists were broken and ribs were cracked to some hard hitting bands. We are switching it up for round 2.
Metal Mosh & Melee 2, Pro Fight Night, is a brutal combat packed raging time!
30+ competitors, 6+ weight classes all suited up in real armor and armed with a multitude of weapons to fight their way to the Grand Championship Prize.
How it works:
~Fighters are matched up by weight class
~There are 3 rounds per fight, 5 for championship fights
~3 ring side judges will use a point system to score competitors
~Ground and Pound Fighting is permitted
~Any legal weapon is permitted
Grab a drink and check out the fights while some of the top local bands from Las Vegas and Arizona take the stage.
Adavant (Chandler, AZ): https://www.facebook.com/AdavantOfficial/
AntiTrust (Las Vegas, NV): https://www.facebook.com/antitrustlv/
Mynas (Las Vegas, NV): https://www.facebook.com/mynasofficial/
Pariah Was One: https://www.facebook.com/pariahwasone/
Sponsored by: Into the Pit with Annie, Beuhert , Age Craft , Medieval Extreme, Las Vegas Death Dealers: Armored Combat League, and MNGR.
Performers
Date and time
Location
Fremont Country Club
601 Fremont St
Las Vegas, NV 89101
Refund policy