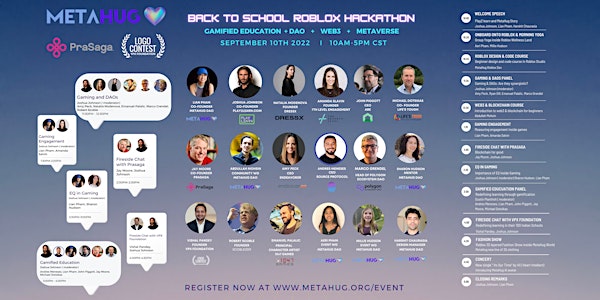 MetaHug Back-to-school
Back-to-School Fun
About this event
Play2Learn.com is scaling a new industry called Gamified Education to transform web3 education for the masses, revolutionize how young people (age 4-25) learn, and influence marketing departments to prioritize education before sales.
Together with MetaHug, Play2Learn created Metahug World to play forward learning. By play forward learning, it means you can earn metahugs by learning in the Roblox metahug world, which is fun when playing with friends. Also, you can earn an NFT per game won, which happens when learning is 100% correct with the leaderboard, community, and the kid's DAO that creates the games organized on Discord. Brands add weight to metahug's power through gifting incentives — 'Earn,' the last of the 'Learn. Play. Earn.' models, which are redeemed like kids playing a game at an arcade, winning tickets (social tokens) for beating the game, and redeeming for candy or a ball (Nike shoes or Starbucks coffee).
Metahug
verb
meta \ ˈhəg \
Definition of metahug
An unconditional, uncircumstantial kindness transferred to a stranger. It is an act founded on the belief that if we treat everyone like we're all connected, it will transform lives.