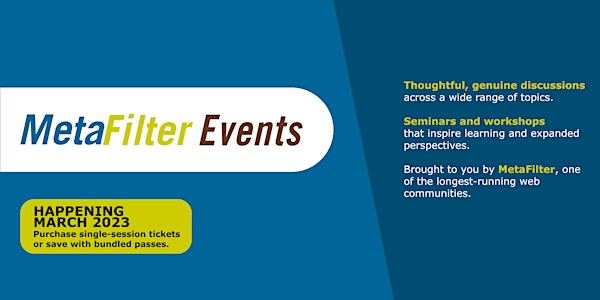 MetaFilter Online Events
Thoughtful, genuine discussions across a wide range of topics. Brought to you by MetaFilter, one of the longest-running web communities.
Date and time
November 22, 2022 · 4pm - December 30 · 9pm PST
Refund Policy
Contact the organizer to request a refund.
Eventbrite's fee is nonrefundable.
About this event
403 days 5 hours

Mobile eTicket
About MetaFilter Events
Much like how MetaFilter welcomes dialogue and content across a wide variety of topics and themes, MetaFilter Events features seminars, workshops and discussions spanning a fascinating range of subjects, skills and perspectives.
We invite and encourage speakers from all backgrounds with knowledge, skills or experience to share - that also believe in fostering genuine, thoughtful, considerate discussion. People that have deep expertise in their professional fields, a honed skill to share, or particular knowledge of a certain niche. People with perspectives not often heard, from underrepresented backgrounds or identities.
Coming into the space of presentations and workshops, we're looking to build a live, online event version of what MetaFilter offers as a hub of insightful, kind and thought-provoking discussion.
We've assembled a fun lineup of incredible speakers and learning experiences for you. Join us! We're all in this together.
Can't make it for the event you want? We've got you covered!
We know life gets busy or unpredictable, and it's hard to find time to attend and watch everything you'd like, when it all looks so interesting. Plus, when you're in a different timezone, it becomes even more challenging. But don't worry - we're here to help you get the most out of everything these amazing speakers and sessions have to offer.
Most of our events will be recorded, so if you have to miss your session for any reason, you can catch up on it at your convenience and won't miss a single minute!
Not able to join live? Sign up anyway and we'll send you access to the recording after the event.
***RECORDINGS FOR PREVIOUS SESSIONS are still available! Click on "Get tickets" and purchase a ticket to access the recording you want.***
What's Happening - This Upcoming Week
Two Events: Mar 29 & Mar 31
MetaFilter Events has returned for a while in 2023! While we anticipate the next half-season of events, we are excited to bring you two free standalone events in the meantime.
Originally part of a longer series we planned on Web 1.0 (the early internet), we have two sessions lined up for March 29 and March 31 featuring two significant figures from the web's early days: Ryan North and Drew Curtis. The World Wide Web (here defined as the first web browser) was famously birthed on Christmas Day, on a NeXTcube in Tim Berners-Lee's office, 32 years ago, and as the "killer app" of the internet has changed all of our lives in many ways both positive and negative.
While they are often conflated, the Web is not the same thing as the internet itself, which is at least a couple of decades older. The first browser was in fact publicized on Usenet groups, a part of the internet that still exists now, and it was discussed via email, which is still used now by hundreds of millions of people every day. It is a service that runs on the internet: without the internet there could be no World Wide Web, but there are plenty of applications that run on the internet that don't touch the Web itself.
Through a lot of the Web's history it has been thought of as a very new thing but it is past time to think of it so. People born when the Web was created have lived with it all their lives, and are now approaching middle age.
The people who helped the web become what it is today are still with us, and now is the time to ask them about their experiences, how they made what they did, how they rose to prominence, what they're doing now, and where the Web is going from here. We've gotten a few early movers and shakers to talk with us about their experiences.
In these two upcoming events, we get to speak with Ryan North (an early internet webcomic maker), and Drew Curtis of Fark (a popular Web 1.0 news aggregator).
Session recordings for both events will be available to all ticketholders - so don't worry if you're unavailable for these session times or located in another timezone.
A Q&A with Ryan North, Webcomic Maker
29 March 2023 | 7:00 PM - 8:15 PM EST
Discussion with Ryan North facilitated by John Harris
Ryan North is here to A your Qs!  If only there were a better way to put that, but sadly, there is not.  Ryan's been a webcomic maker since 2003 with Dinosaur Comics - www.qwantz.com - and most recently he's writing the Fantastic Four for Marvel.  He's written bestselling nonfiction guides to time travel and world domination too, but then one time he got stuck in a hole with his dog, so let's keep our expectations for how clever he is moderated here.
Recording will be available to all ticketholders.
About the Speakers
Ryan North's recent work includes the non-fiction books How To Take Over The World and How To Invent Everything, the semi-fictional graphic novel adaptation of Kurt Vonnegut's Slaughterhouse-Five, and the so-far-fictional Unbeatable Squirrel Girl series for Marvel. He's a multiple New York Times bestseller whose work has been translated into 16 different languages so far, and as a linguist, he's very happy about that. He lives in Toronto, where he once messed up walking his dog so badly it made the news.
John Harris, a.k.a. JHarris, Rodneylives and Milen, writes about video games on the blog Set Side B, and for ebooks at rodneylives.itch.io. They used to write the column @Play for GameSetWatch long ago, and a bunch of other tiny things. They wrote the longest post in Metafilter history, for whatever that's worth. On Mastodon, they're @rodneylives@mefi.social. John has a MA in English Literature from Georgia Southern University.
A Q&A with Drew Curtis, Founder and Maintainer of Fark
31 March 2023 | 7:00 PM - 8:15 PM EST
Discussion with Drew Curtis facilitated by John Harris
Fark is a couple of years older than MetaFilter, and has a fairly different, more rancorous culture. (It has been described as "rowdy.") While it was something of a bad boy of the early Web, its rowdyness would be far surpassed by sites like Something Awful, 4chan, and worse. Meanwhile Fark has continued being itself all this time, posting community-submitted links and offering entertaining commentary on them with a fair dose of editorial selection for 24 years. We'll talk with Drew about a variety of topics related to Fark and the Web.
Recording will be available to all ticketholders.
This event may also be livestreamed on Drew's Twitch channel. In the event of such a livestream, participants will not be shown visually on the live broadcast.
About the Speakers
Drew Curtis, as the founder, sole owner, and CEO of Fark.com (an Internet news aggregator), is in a very unique position where digital media is concerned. For the past 19 years, he has watched as media evolved from an industry that eschewed and dismissed the digital realm to an industry very much aware that their future depends on it. With over 2000 news items a day submitted by a pool of over one million users, there's very little that happens in the world that doesn't pass across Drew's desk, all thanks to the advances in digital media. Drew has presented at SXSW, Poynter Institute and TED, and Fark has been featured in Jeopardy categories twice. When the pandemic hit in 2020, Drew refocused all his energy on Fark.com, where it remains to this day. He is currently working on possibly the next big idea in social media.
John Harris, a.k.a. JHarris, Rodneylives and Milen, writes about video games on the blog Set Side B, and for ebooks at rodneylives.itch.io. They used to write the column @Play for GameSetWatch long ago, and a bunch of other tiny things. They wrote the longest post in Metafilter history, for whatever that's worth. On Mastodon, they're @rodneylives@mefi.social. John has a MA in English Literature from Georgia Southern University.
More Upcoming Events
We have many more events in the pipeline this 2023 - watch this space for updates!
More details on speakers and presentation titles will be released soon.
Want to stay updated on ticket deals and MetaFilter Events that interest you?
Give the gift of a MetaFilter Events pass or single-event ticket!
Besides single-session tickets, we're also offering the option of getting bundled passes. Join all the sessions and workshops you want with our Half-Season Passes (aka the Special Snowflake Pass and Latter Beanplatter Pass) or All-Season Pass (aka the Well-Seasoned Crouton Pass). All available session recordings included.
AND! If you're a MeFite, you can sponsor tickets for other MeFites to the paid events. This is a great way to support events, speakers and themes you like while spreading some kindness and good vibes within our community.
To purchase gift cards and gift passes, head on here to our gift card store. That's also where you can sponsor tickets for other MeFites - we'll explain how it works there.
Bundled passes are also directly available from this Eventbrite page (without the fancy virtual gift-card wrapping and send-to-a-friend delivery). Just click on the red button that says "Get tickets".
FAQ
How do the events work?
After you register or purchase a ticket on Eventbrite, you will receive an email with a unique link and instructions to join the online event.
Will I be able to ask questions?
Yes! There will be time for Q&A for each session. Some sessions also feature even more interactivity, breakout rooms and focused attention from the speaker, depending on the format.
How am I expected to participate? Do I need to turn on my mic, or my webcam?
We encourage you to participate in whatever way you feel most comfortable. If you prefer to stay off your mic or webcam, that's absolutely fine too! While there may be interactive portions of sessions that might be more enjoyable with audible voices and visible faces, mics and webcams are not mandatory. We simply hope you can be part of the sessions on a level that works best for you.
What ticket options do you have?
We're offering a mix of paid and free events, with options to buy bundled passes and gift cards. There is also an opportunity to sponsor tickets for other MeFites to the paid events.
Single-session tickets and bundled passes may be registered or purchased here on this Eventbrite page. (Simply click the red button that says "Get tickets"!)
Our gift store offers gift cards good for bundled pass redemption. You'll also be able to sponsor tickets for other MeFites through our gift store - check it out!
How can I access the recordings?
Most of our events will have recordings available about two weeks after the event, exclusively for ticketholders. Ticketholders will automatically have access to recordings through their personal Eventbrite area, and will also be sent email notifications when the recordings are made available.
I'm not a MetaFilter member. Can I still attend these events?
YES! Our events are open to everyone. You don't have to be a MetaFilter member to participate! (Although, if you're not a MetaFilter member - what are you waiting for? Join us.)
Where can I find a list of previous events?
You may view our list of past events here.
What is MetaFilter?
MetaFilter is one of the longest-running online communities. More than a community weblog where anyone can contribute, it is also a place where you'll find some of the most interesting stuff on the internet. At MetaFilter, you can expect thoughtful and varied discussions.
Since 1999, we've been focused on fulfilling the web's potential to bring people together and create genuine, vibrant, good-hearted community spaces. With over 325,000 registered members from different countries, cultures, ages, incomes, backgrounds and identities, we're all here together learning from each other, trying to foster positive conversations, build community, and share all the good things the internet makes possible.
MetaFilter cares about encouraging safe, kind and civil discussion spaces no matter our size or scale, and our community's efforts are reinforced by MetaFilter's small team of paid professionals providing round-the-clock moderation and support.
If you're new to MetaFilter, check out our community and site at metafilter.com. You can read more about MetaFilter here, and join us here.